1915
1915
Vasco Nuñez Balboa, California's Man of the Hour
In anticipation of the opening of the Panama Canal, throughout 1912-13 and again on February 14, 1915, a grand total of 334,796,626 Balboa 1-cent green stamps were issued with the bust of Spanish explorer, Balboa, who named the Pacific Ocean. According to Elwood D. Horkheimer, the bust was based on the Balboa Amusement Producing Company's logo, but the original issue date preceded the founding of the movie studio.
In particular, California businessmen awaited the opening of the Panama Canal with impatience because the canal would link for the first time the Golden State to commercial centers around the globe as never before possible. In addition, the Panama Canal would shorten voyages for national and international cargo from coast to coast. Lest we forget, in 1907, California was relatively isolated with a population of only 1.5 million people, the same as the population of the Gaza Strip today.
The Moving Picture World announced that the Horkheimers had ordered one million one-cent stamps from the U.S. Postal Service, made in the special issue bearing the likeness of Vasco Nuñez Balboa for the purpose of advertising their Balboa brand films, an investment of ten thousand dollars worth of stamps.
(collecton of Rodney Bardin)
Henry B. Walthall to Star in Balboa Films
January 16: The Moving Picture World announced that Henry B. Walthall arrived at Long Beach on New Year's day and started work with the Balboa company in "Beulah," a six-reeler from the novel of Augusta J. Evans. On December 12, MPW ("Henry Walthall Joins Balboa") announced that Walthall, lauded by many dramatic critics as "the world's greatest moving picture actor," had signed a three-year contract with Balboa, his salary being $1,000 a week, to star in four-reel and six-reel productions of famous novels. His contract called for six days of work each week, seven hours a day and, at his salary of $1,000 a week, he would receive about $166.66 a day, $23.80 an hour, or about 40 cents a minute. No deduction of his salary was to be made because of cloudy weather or failure of the company to make pictures owing to other adverse reasons, hence the star would be richer $166.66 at the close of every working day for three years, each year's total salary being $52,000, or $156,000 for the three years' work. During the second and third year he would receive a royalty bonus on every foot of film made in which he starred and this income was expected to make his pay advance during the latter years to total about $75,000 a year.
Horkheimer Believes in Stars
January 23: The Moving Picture World ("Horkheimer Believes in Stars"): H. M. Horkheimer, president of the Balboa Company, Long Beach, California, states that he will not stop adding to the number and strength of his stars with the engagement of Henry B. Walthall and Ruth Roland. On the contrary, he will announce the engagement of a number of others just as soon as he can do so without embarrassing them in their present positions.
"Good stars who have won names for themselves in the motion picture world," declared Mr. Horkheimer, "cost my company not one cent. I secure their services free and make a profit besides. That sounds like a ridiculous statement until it is analysed, but I will illustrate what I mean by saying that with an ordinary cast, the members of which are capable, but unknown, I can secure the regular price per foot for positives. With Ruth Roland and Henry King and Henry B. Walthall not only can I get from 25 to 50 per cent more, but there will always be a ready market for me."
Walthall to Appear in Six-Reel Beulah
April 3: The Moving Picture World ("Balboa with Alliance" & "Walthall in Beulah."): President Cobe of the Alliance was very much elated when he announced that the next offering on the Alliance Programme would be Henry B. Walthall in the Balboa Company's six part production of "Beulah."
The novel from which this film was adapted is the work of the late Augusta J. Evans, the brilliant Southern authoress, and since it first came off the press several years ago it has gone through repeated editions and among the fiction reading public "Beulah" is as well known as "Uncle Tom's Cabin." The film follows the original story in every detail and Mr. Walthall and his associate players have made every effort by their acting to preserve the finely drawn characters of the book.
Miss Joyce Moore, the distinguished English artiste was especially engaged by the Horkheimer Brothers to play the part of Beulah, while Mae Prestell, Clifford Gray, Margaret Nichols and several other well known players, appear in the important roles.
Balboa Company Picnic
August 21: Motography ("Balboa Company Enjoys Picnic"): Tom Doyle's cattle ranch among the foothills of Orange county, in southern California, was the rendezvous recently for the players and people connected with the studios of the Balboa Amusement Producing Company of Long Beach. The big event of the day was a splendid repast, al fresco, under the live oaks and sycamores that surround the camp.
All sorts of outdoor sports were indulged in during the day. A talented lot of people like those clustering about the Balboa studios never permit time to drag heavily upon their hands. President H. M. Horkheimer of the company headed a baseball team in person and pitched it to victory.
Among those of national prominence in the amusement world who participated were Lillian Lorraine, Daniel Gilfether, Paul Gilmore, Lewis J. Cody, William Courtleigh, Jr., Corenne Grant and others. On several occasions, the Balboa players used the Doyle ranch for taking pictures. The owner liked them so well that he invited the whole company down. He proved himself a splendid host.
Another Big Feature in the Works: Who Pays?
August 28: Motography: Henry King of the Balboa company is preparing for yet another big feature which will be released by the Pathé concern. When Henry first directed a picture it was a sort of fill-in for one who had left suddenly. This picture gave the idea for the famous "Who Pays" series, which are still running and which have made lots of money for the exchange men as well as for the manufacturers. No wonder that King is held in high esteem by the Long Beach company.
Publicity Stunt inviting the viewing public to answer the question "Who Pays?" from the series of the same title. As a point of reference, the grand prize, $1000 in gold was equivalent to the annual income of the average American in 1915.
Balboa's "Roll of Loyalty"
September 4: Motography ("Horkheimer, Balboa President to Reward Faithful Empoyees"): Five employees who joined H. M. Horkheimer two years ago and formed the nucleus of his original organization are given credit by their employer for the major part of his success in the motion picture industry to date. They are William Beckway, chief cameraman; Robert Brotherton, head chemist; John Wise, stage manager; May Brotherton, superintendent of the assembly department, and Norman Manning, business manager.
Besides the five already named, there are today more than forty people who have been with the company in its various departments the greater part of the two years since it began. These men and women are all on the roll of honor, in addition to the five already mentioned: Bertram Bracken, Joe Brotherton, Jackie Saunders, Henry Stanley, Mollie McConnell, Frank Erlanger, Daniel Gilfether, Charles Dudley, Fred Whitman, Gordon Sackville, Bruce Randall, Harry Harvey, Bruce Smith, Sherwood McDonald, Roland Groom, William Reed, Frank Kearns, Gene Kearns, James Loy, Guy Ward, Mrs. B. Ahrens, Grace Scott, Nettie Clark, Edgar Moore, R. R. Rockett, Irma Mendenhall, Richard Johnson, Roy Freichett, D. Willey, John Cunnard, Percy Dewey, George Crane, Marguerite Nichols, Madeleine Pardee, William Kearns.
Balboa Becomes a Full-Fledged Plant
September 4: The Moving Picture World ("Balboa Continues to Grow")–"From Small BuildingTaken in 1913 Has Developed to a Full Fledged Plant": All four corners of Sixth and Alamitos streets, in Long Beach, Cal., are now utilized by the Balboa Amusement Producing Company for the studio and various departments necessary to make "the pictures beautiful." From modest beginnings, this big plant has grown in two years' time, in spite of generally untoward business conditions. H. M. Horkheimer, head and shoulders of the Balboa Company, took over the old Edison studio in 1913. It consisted of one small building. Now there are eight and the end is not yet, for with the increasing demand for Balboa pictures, further facilities are in prospect.
This summer, the stage capacity has been enlarged 100 per cent. It totals 8,000 square feet now. One section is entirely enclosed so that by using artificial lights work can proceed night and day, no matter what the weather. A capacious scene dock has been built next to this inclosed studio. Handy to it is a group of twelve new dressing rooms, provided with every convenience for the players. There is also a large garage for housing a dozen cars.
On the opposite corner, are two pretty little bungalows. The one shelters the company's general offices, while in the other are the press and scenario departments. The original guilding has been converted into a wardrobe department and laboratory. Right now, a big steel reservoir is being erected to cool water in quantities needed to develop the film.
The vacant land on the fourth corner has been leased and will be used for accommodating large sets, such as cannot be taken care of on the stage. In addition to all this land, the Balboa company controls eleven acres on Signal Hill, overlooking Long Beach, where some of its biggest outdoor scenes are taken.
Balboa buildings are all uniformly painted green and white. The surrounding grounds are being beautified. When Balboa started operations, its total force numbered twenty-five. In two years that number has increased a thousand per cent. It is now turning out 15,000 feet of negative a week.
Taking Care of Balboa Folks
September 25: The Moving Picture World: At Long Beach the Horkheimer brothers take good care of their players and arrange little parties to keep the actors and actresses in close friendship. This week they held a bathing party one night in the bathhouse plunge. The prominent players present who dipped and dove were Ruth Roland, Lillian Lorraine, William Courleigh Jr., Lewis Cody and Jackie Saunders, the mermaid with the golden hair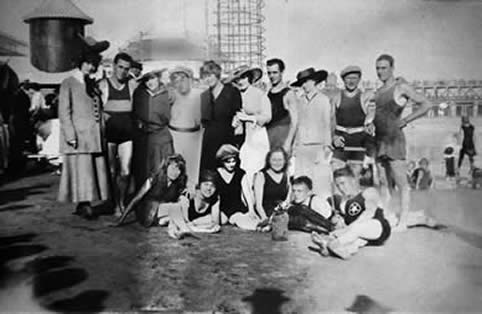 Photos, courtesy of Marc Wanamaker. Unidentified Balboa folk at the beach, near the Pine Avenue Pier and the Pike.
Ziegfeld Star to Make Movies at Balboa: Lillian Lorraine in Long Beach
October 26: The Moving Picture World ("Equitable Secures Lillian Lorraine"): Lillian Lorraine, whose wonderful work as star in the numerous Ziegfeld Follies, Shubert's Winter Garden, and later as supreme star of the bigger Keith vaudeville houses, makes her screen debut on the Equitable program in a specially elaborate production of an original work entitled "Should a Woman Forgive?" which was produced by Messrs. Horkheimer at their Long Beach, Cal., studios, especially for Equitable.
"Should a Woman Forgive" is in five acts, and was staged amid extremely beautiful surroundings, and in scenic sets that, judging from their looks, must have required long, patient work. The story itself, even in the hands of a less talented artiste, would have had a potent appeal. Its striking situations, the element of human interest, and the absolute logic of it all, constitute what should prove to be one of the real big hits of the season.
Photos, courtesy of Nils Hanson.
September 7: Daily Telegram, 12:1): Lillian Lorraine starred in this Balboa serial, a patriotic photoplay of 14 chapters, parts of which were filmed in San Diego for the Panama-California Exposition. There were 2,500 marines stationed at San Diego, and the battleships in the harbor were used for the backdrop.
According to Marc Wanamaker, Harry Harvey was offered a bonus of $500 if he could make the serial in 12 weeks. He completed eight episodes in six weeks and finished the rest before the deadline. The rapidity of production showed, and Pathé barely accepted the hastily made episodes because of their poor quality. Chapter 1 was copyrighted October 25, 1915, and Chapter 14 was copyrighted December 30, 1915.
Promotional pins for the serial Neal of the Navy (1915)
An Unusual Must-See (Comrade John)
October 23: The Moving Picture World ("Comrade John" (Pathé Gold Rooster Play) [N.B.: This film is viewable today (2011) but without intertitles at the Cinémathèque française]: "Comrade John," the novel by Samuel Merwin and Henry K. Webster, has been put into a motion picture for Pathé. Readers of the book will remember that in it the authors exposed the folly of the various freak religious cults and showed that too often they were used as a source of profit to their founders. In "Comrade John," Herman Stein, a character strongly reminiscent of the notorious Alexander Dowie, is the founder of a sect whose motto is "beauty through toil." Through his great ability and utter unscrupulousness he has induced many persons to subscribe to his enterprise and has finally even enlisted the support of Wall Street capital, a tribute to the commercialization of his cult. He employs John Chance, a brilliant architect, to lay out for him a "dream city" which by its exceeding beauty shall advertise the new religion all over the world. Through the one weak spot in Stein's armor, his fondness for women and his unmoral attitude toward them, the great organization he has built crashes around his ears and he is a ruined, discredited man.
In the Pathé picturization of this unusual story, William Elliott, who is one of Broadway's cleverest leading men, takes the part of John Chance. Ruth Roland, one of the best known of motion picture stars, plays Cynthia, the girl for love of whom Stein ruins himself. Lewis J. Cody plays Herman Stein. The Balboa Amusement Corporation, who made the picture in California deserves great credit for the sumptuous way in which they produced the picture. The acting is beyond cavil–being convincing from every member of the cast. The fire scenes in which the temple of the cult is burnt down are most impressive.
"Comrade John" will win its way with every audience as a feature of unusual merit. It is put out as a Gold Rooster play and will be released October 29.
Technical Advances in Lighting at Balboa Studios

November 4: The artificial-light-enclosed studio at Balboa was to be completed within the following week with a battery of 12 overheads, 12 wall lights of 60 Amps/6000 V, all supplied by M. J. Wohl & Co., Brooklyn. According to Lemoine's research, it was the first studio thus equipped in Los Angeles, thanks to Elwood D. Horkheimer, who besides being the treasurer and secretary of Balboa had graduated from Cornell University with degrees in both electrical and mechanical engineering.
Balboa Cameraman Arrested as Spy
December 19: The Moving Picture World ("Balboa Cameraman Arrested as Spy") [N.B.: It appears that talking about warships and military matters made this cameraman a suspect]: Arrested as a military spy in Long Beach, Cal., taken to the city prison and subjected to a "third degree" ordeal of questioning, was the experience recently of Carl von Pagh-Winther, a cameraman in the employ of the Balboa Amusement Producing Company of Long Beach, who is known in local moving picture circles as "The Baron," because of his fierce, bristling mustache, Danish ancestry and markedly military bearing. The arrest was made by Detective T. G. Cervantes of the Long Beach police department, who acted on advices he had received from San Pedro, seven miles distant, that "The Baron" and a mysterious male friend had eaten dinner in a San Pedro restaurant and had talked of submarines, military warfare and, so the message stated, had displayed revolvers and had adjusted the mechanism of the weapons. Mr. Horkheimer very shortly secured his release.