Dr. Oliver Wang, Professor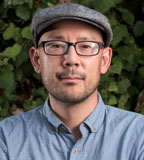 Email: oliver.wang@csulb.edu
Office: PSY-140
Phone: (562) 985–4600
Main Courses:
Principles of Sociology (SOC 100)
Social Problems (SOC 142)
Popular Culture (SOC 447)
Honors Thesis (488/89H)
Arts, Culture and Los Angeles (UHP 101)
Research Interests: Popular culture/music, race and ethnicity, identity and community formation.
Education:
B.A. Sociology, U.C. Berkeley, 1994
M.A., Ph.D. Ethnic Studies, U.C. Berkeley, 2004
Selected publications:
Legions of Boom: Filipino American Mobile DJ Crews of the San Francisco Bay Area. Duke University Press (2015)
"Everybody Loves an Underdog: Learning From Linsanity." Asian American Sporting Cultures. Ed. S. Thangaraj, C. Arnaldo, C. Chin. New York: NYU Press (2016): 75-101.
"Learning From Los Kogi Angeles: A Taco Truck and Its City." Eating Asian America: A Food Studies Reader. Ed. R. Ku, M. Manalansan, and A. Mannur. New York: NYU Press (2013): 78-97.
"The Comfort Zone: Shaping the Retro-Soul Audience." Pop When the World Falls Apart. Ed. E. Weisbard. Durham, NC: Duke University Press (2012): 201-29.
"The Journey of "Viva Tirado": A Musical Conversation within Afro-Chicano Los Angeles." Journal of Popular Music Studies, 22.4 (2010): 348-66.
"To Live and Dine in Kogi L.A.." Contexts (Fall 2009)
"Rapping and Repping Asian: Race, Authenticity, and the Asian American MC." Alien Encounters : Popular Culture in Asian America. Ed. M. Nguyen, T. Tu. Durham, NC: Duke University Press (2007): 35-68.
"These Are The Breaks: Hip-Hop and AfroAsian Cultural (Dis)Connections."

AfroAsian encounters : culture, history, politics

.

Ed. H. Raphael-Hernandez, S. Steen. New York: NYU Press (2006): 146-64.
"Between the Notes: Finding Asian America in Popular Music." American Music 19.4 (2001): 439-465.