Giving Tuesday
November 23, 2022
You can help us reach our
Beach Giving Tuesday Goal: $73,000 in honor of our 73-year legacy
Please consider donating today to help a student realize their dreams.
https://giveto.csulb.edu
#BeachGivingTuesday #NoBarriers
CSULB Moot Court Picks Up More Bids
November 22, 2022
Please join us in congratulating CSULB Moot Court for picking up two more bids this past weekend!  Ashley Harding (junior) and Jacquelene Zambrano (senior) won the Eastern Regional in a 3-2 decision over Patrick Henry College.  They are photographed with the assistant coach who coached them Judy Hails.  Muskan Jawanda and Isabella Thompson also earned bids.  Thus far, our young squad is up to three bids.
We have two more teams to compete — the weekend of Dec 2-4 in Michigan.  
First male mentor for Long Beach CAMEO program finds satisfaction in work
November 18, 2022
Cal State Long Beach professor was first in his family to go to college
Long Beach City College graduation ceremony allowed students from 2020, 2021, and 2022 to walk the stage for the first in person commencement since 2019, in Long Beach on Thursday, June 9, 2022. (Photo by Brittany Murray, Press-Telegram/SCNG)
By GARY METZKER | gary.metzker@gmail.com |
PUBLISHED: November 13, 2022 at 1:43 p.m. | UPDATED: November 14, 2022 at 3:23 p.m.
LONG BEACH
Assistance League of Long Beach has been mentoring under-served students through its CAMEO auxiliary program for more than 35 years.
The three-year program pairs a volunteer with a student from either a Long Beach high school or Long Beach City College and helps them to identify and achieve college and career goals.
Long Beach State history professor Ulices Piña read about the program and contacted league officials to offer his services. What he didn't know was that he would become the first male to join the league and the first male to mentor a student.
"I was looking for a way to give back to the community," Piña said. "It just seemed like a neat way to give back."
Piña spoke to Ellen Calomiris, the 2021 membership chair, who was delighted to include him in the program.
"With societal changes and Assistance League of Long Beach's desire to be more inclusive and diverse, the organization was open to expanding its membership to include men," Calomiris said.
And for his part, Piña said he wasn't taken aback when he was told he would be the first male in Assistance League history.
"It's a really welcoming environment," he said. "I feel like my opinion has been valued and that I'm part of the organization."
Many students who go through the program are first in their family to attend college; so it was with Piña, whose parents are from Colotetlan in the state of Jalisco.
"My parents came from Mexico to Long Beach in the '70s and only had a sixth grade education," Piña said. "I relied on my high school track coaches to help me learn about and apply to college.
"Their mentoring was instrumental for me," he added. "They taught me to take chances I wouldn't have known about. It encouraged me and taught me how to form goals, how to follow through. As a professor, this is essential to the job I do."
A graduate of Long Beach Poly High School, Piña received his bachelor's and master's degrees at UC Riverside and his Ph.D. in history at UC San Diego. He teaches Modern Mexico, Latin American Nations and History of Social Activism at CSULB. Additionally, he is one of nine people selected by The Institute for Citizens and Scholars for a 12-month fellowship that helps professors from marginalized groups stay in academia.
The first year of mentoring wasn't easy for Piña or his mentee, Angel, 16. Their meetings were done using Zoom, phone and texting. Both agreed it wasn't the best way to get to know someone, but they made it work.
"It's been a joy to mentor and build trust with my mentee," Piña said. "Over the past year, I've seen him growing into his own. He's a curious, intelligent young man and seeing him grow makes me try harder."
Finally, in September 2021, they met in person at an orientation meeting.
"He introduced himself and I talked to him about high school," Angel said. "He told me he was the first male mentor. He made the program sound interesting for my mom. He was a trustworthy guy."
Angel told Piña he wanted to be a chef. For the last year, Angel has been a busboy. But now the Cabrillo High School student is thinking about other occupations.
"Now that I have some real-world experience and I have a checking account, I was thinking about law enforcement or being a firefighter," Angel said.
"He's really helpful," he added. "I see him as someone I will be friends with for the rest of my life."
Approximately 30 students per year who are likely college-bound, but who face some obstacles, are encouraged to apply to the CAMEO program. Monthly workshops deal with issues such as etiquette or finances or career opportunities. When students complete a year of workshops, they get a stipend; if they meet Assistance League standards after three years, they can get a scholarship.
CAMEO is run by volunteers and is fully funded by an annual Fashion Show and Luncheon Fundraiser that is scheduled for March 18, 2023. To attend the fundraiser or find out about becoming a mentor, email CAMEO@allb.org or go to www.assistanceleague.org/long-beach/membership/cameo/.
Keats in San Francisco & Other Poems
November 16, 2022
CLA is proud to announce and congratulate Paul Kareem Tayyar on his new book release.
English department lecturer, Paul Kareem Tayyar has just had his new book released, Keats in San Francisco & Other Poems, by Lily Poetry Review of Books. Tayyar's novel, The Prince of Orange County received the 2020 Eric Hoffer Award for Young Adult Fiction and in 2019 he was the recipient of a Wurlitzer Poetry Fellowship.  His work has appeared in literary journals like Poetry Magazine, Prairie Schooner, North Dakota Quarterly, and The Writer's Almanac. His previous books include The Revolution of Heavenly Bodies & Other Stories and Let Us Now Praise Ordinary Things.
Praise for Keats in San Francisco & Other Poems
Before I start my blurb, the blurb part of my blurb, with the references to other writers and a bit on the skills of the poet, all of which are going to be completely accurate and true, I want to say that this is the most fun I've had reading a book of poems in ages. Beer-in-church fun. Oxygen-on-the-moon fun. Favorite-musician-fingerpicking-your-favorite-song-on-your-birthday fun. Kareem Tayyar is one of the rare poets who still hears America singing and wants to expand upon its song. And he does so beautifully in Keats in San Francisco. From poems about Ramadan to poems about Townes Van Zandt, Tayyar builds his poetry in the spirits of temples and dirty dive bars where the best music happens. Everyone here is welcome. Keats in San Francisco is poetry for readers who love poems and readers who need their poetic door opened. In poems of stunning lyrical beauty Tayyar reminds us that we can all "seem happy / which is poetry enough." Like his contemporary, the excellent Ross Gay, Tayyar makes poetry from what he loves. There are dreams of John Berryman mixed with visions and the birds he sees with his imagination leave feathers. Tayyar hears the calling of the Pacific Ocean and shows us how to enjoy the view. This is a world book of poems, one that recognizes the wisdom of Sun Ra and the grit of grandfathers immigrating to America. He knows that Andy Warhol is just as useful in Iran as in New York. Tayyar doesn't believe in boundaries; he believes in beauty. Reading Keats in San Francisco is like mixing oxygen with religion—it reminds us to stay alive and seek out the light. Brilliant work!
–Dave Newman, Author of East Pittsburgh Downlow
ISBN: 978-1-957755-01-4
Release Date: November 14, 2022
Paperback: 82 pages
Distributed by Ingram, available through
Lily Poetry Review Books and major booksellers
Publisher Contact: Eileen Cleary
Email: LilyPoetryReviewBooks@gmail.com
Beach Forensics Makes Waves at Wake Forest
November 15, 2022
Beach Forensics ventured to Wake Forest this past weekend, where the squad competed at the Franklin R. Shirley Classic. This national tournament is regarded as the most prestigious, most competitive, and most important tournament of the fall semester. Schools are only allowed to bring their best 2 individual debate teams to this tournament, and the field this year had 124 of the nation's top policy debate teams.
At the Shirley, the team of Diego Flores (Political Science, Junior) and Curtis Ortega (Film Studies, Freshman) finished preliminary debates as the 4th seed. Ortega was recognized as the 5th place individual speaker, and Flores won his THIRD 1st place individual speaker award of this semester, this time out-speaking 247 other competitors. The duo finished their incredible run in the semi-finals and took 3rd place overall, with victories over Missouri State, Central Oklahoma, Wichita State, George Mason, Wake Forest, USC, and Northwestern along the way.
Flores and Ortega are currently ranked as one of the top 10 individual 2-person debate teams in the nation, and are in the midst of making a historic run for CSULB. Stay tuned for more updates as Beach Forensics heads to the Big Tent Debates and Speech Fall Championships after Thanksgiving! We are thankful for your all of your support! GO BEACH!!!
Faculty Research Awards: CLA Recipients
November 15, 2022
CLA would like to congratulate the 22-23 Faculty Research Award recipients from the college: 
Faculty Member: Beth Manke, Professor, Human Development & LBCIP Program Director; Jake Wilson, Professor, Sociology & LBCIP Internship Course Instructor/ Coordinator 
Project Title: Long Beach Community Internship Program: Promoting Diversity, Equity, and Inclusion 
Project Theme #1 – EDI Campus Programming 
Abstract: The Long Beach Community Internship Program (LBCIP) is a high impact internship program for CSULB students who graduated from Long Beach area high schools. The primary goal of LBCIP is to curate paid internships for students with local nonprofits, creating a bridge for low-income students of color back to their own communities to work and live. LBCIP aims to close the racial equity gap of paid internships and the loop of the Long Beach College Promise while ensuring students have opportunities to do meaningful work, hone professional skills, build high quality job networks, and explore local career options in local nonprofits. LBCIP intentionally partners with organizations that are not profit driven, many of which promote racial and social justice. In order to scale LBCIP, it is crucial that we gather data on students' internship experiences so that we can develop additional program components that explicitly center anti-racism, equity, and social justice (i.e. community site trainings and workshops for students). For this project, we will utilize a multi-method evaluation of LBCIP where we gather information about racialized experiences and impact data from both students and community host partners. This will be the first effort on campus to evaluate internship programming through an EDI lens. Our research goals are as follows: (1) to better understand LBCIP student intern experiences especially those related to racism and classism; and (2) to better understand LBCIP site supervisors' experiences mentoring and supervising student interns. Evaluation data will help LBCIP secure external funding while also improving LBCIP student internship experiences by developing anti-racism trainings for LBCIP site supervisors and EDI workshops for students. 
---
Faculty Member: Kimberly Kelly, Associate Professor, Human Development 
Project Title: Equity, Diversity, and Inclusion in High-Impact Practices at The Beach: Student Experiences and Perceptions of Internships, Undergraduate Research, and Service Learning 
Project Theme #2 – EDI Campus Information 
Abstract: Approximately one in three CSULB undergraduates participates in an internship, research experience, or service-learning class during their time at The Beach. These High-Impact Practices (HIPs), among others, are widely considered essential experiences for undergraduate students that lead to greater academic achievement, learning outcomes, and personal and social development. However, most existing HIPs research is limited by its focus on HIPs at predominantly white institutions, often obscuring the experiences of historically marginalized students. To investigate whether all students have equal access to and equitable experiences in HIPs, research is urgently needed at Minority-Serving Institutions to amplify the experiences of students of color, as well as students who are first-generation and from lower-income backgrounds; in internships; research; and service learning. The current project uses a mixed-methods design to analyze institutional student demographic data and survey data on CSULB student experiences in internships, undergraduate research, and service learning. Quantitative analyses will test whether the degree of participation, quality of experiences, and perceived learning gains vary by race, first-generation status, and Pell eligibility. Qualitative analyses of open-ended survey responses will identify what, if any, barriers to HIPs participation and inequities in experiences exist for CSULB students. The results center the experiences of historically marginalized students in HIPs, unpack inequities in program implementation, and reveal barriers to participation. The findings can be used to develop empirically based and actionable recommendations to increase equity in HIPs implementation and access to HIPs programming at The Beach.   
Thank you for your hard work in these important areas. Go Beach!
---
Beach Forensics Wins Again!
November 8, 2022
This past weekend, Beach Forensics split the squad and competed at two tournaments.
At the Crossman Invitational, hosted by El Camino College, Rhiannon Lewis (Senior, Communication Studies) took 2nd place in Open Dramatic Interpretation and Nikki Majidi (Freshman, Criminal Justice) was the tournament champion in Novice Persuasion. This was Lewis and Majidi's debut tournament, and they made a big splash!
At the Robert Barbera Invitational, hosted by CSU Northridge, the Policy Debate team of Diego Flores (Junior, Political Science) and Curtis Ortega (Freshman, Film Studies) were the tournament champions in Open Policy Debate. The duo went undefeated and advanced to the elimination debates as the first seed. They won every elimination debate on a 3-0 decision. Flores and Ortega had numerous victories, including wins over Arizona State University, CSU Northridge, CSU Fullerton, and USC. In addition, Flores and Ortega were recognized as the top two individual speakers at the tournament, and Flores was the recipient of a $500 scholarship for earning the top overall speaker award. This marks Flores and Ortega's second tournament championship of the semester, and the second tournament of the season where the duo were the top two overall speakers at a tournament.
Beach Forensics heads to Winston Salem to compete at the Franklin R. Shirley Classic, hosted by Wake Forest University, next weekend. Stay tuned for more updates! GO BEACH!!
Beach Forensics Makes it to the Sweet 16
November 3, 2022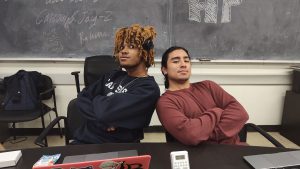 This past weekend, Beach Forensics competed in Policy Debate at the Jesuit Debates hosted by Gonzaga University. The team of Diego Flores (Junior, Political Science) and Curtis Ortega (Freshman, Film Studies) made it to the Sweet 16 at one of the most competitive intercollegiate debate tournaments in the country, in a field of 86 of the nation's top teams.
During the tournament, the duo had victories over CSU Northridge, the University of Wyoming, the University of Minnesota, the University of Kansas, and Wake Forest. In a field of 172 individual competitors, Flores was recognized as the 10th place speaker.
This success marks the continued effort and momentum of the team, who were the sole representatives of west coast intercollegiate debate in the Sweet 16.
Beach Forensics will head to El Camino College and CSU Northridge next weekend. Stay tuned for more updates on the team! GO BEACH!
ANNOUNCING THE KTL FAMILY LSAT FUND
October 21, 2022
The CSULB Political Science department is excited to announce the KTL Family LSAT Fund. The Fund will support CSULB Political Science majors planning to apply for law school by helping with costs related to taking the Law School Admission Test (LSAT). Related costs include the LSAT registration fees and preparation costs, including necessary tutoring, preparation courses, and books. The current deadline for the KTL Family Fund is October 31st and will be open again for applications next year.
This support allows students to apply for funding to pay for or be reimbursed for LSAT-related fees. This funding is to help students not eligible for the LSAT exam fee waiver by the Law School Admission Council (LSAC). Part of the application requires a financial need statement of 400 words and an adversity statement that is 800 words, discussing the challenges the student has faced in life and education, such as economic or social status, family situation, housing, and other related challenges.
 In addition to the statements, the student will list student organizations they have been involved with at CSULB, accompanied by a description of the student's involvement. The list of student organizations is not required, but it helps supply context about the student.
The KTL Family LSAT Fund is only possible through the generous contributions of the KTL Family and the work of the Political Science department. Political Science professor and Campus Prelaw Advisor, Dr. Jason Whitehead, is convinced that this generous gift will help change the lives of some of our law-school-bound students. He shares that in his experience, saying:
 "Many CSULB students who apply to law school are first-generation college students who may not have access to some of the opportunities to gain implicit knowledge, fully prepare for, or afford the courses and tutoring that nearly every student needs to do well on the LSAT.  In short, the KTL Family Fund's support will accomplish two things that I find to be quite remarkable: First, it will help to level the playing field through tangible, prompt resources. Second, and perhaps even more importantly, students will be empowered to dream big as they contemplate a future legal career. Both things can make all the difference."
The KTL Family LSAT Fund will help CSULB students become lawyers, and ensure students meet no barriers on their academic and professional journey. The KTL Family LSAT Fund is part of CSULB's larger effort to create a national model for student achievement, empowerment, and inclusion.
For more information about the application and for a link to the application itself, visit the CSUL Political Science website at https://cla.csulb.edu/departments/polisci/ktl-family-lsat-fund/.
The Family Legacy of the Hauth Center and the Hauth Lobby
October 19, 2022
The Hauth Center is a communication service in AS 122 on upper campus. The Hauth Center employs peer consultants to help students become effective public speakers for both class and for professional development. The Hauth Center has private rooms for one-on-one practice with consultants and there are screens to display presentations, as well as recording equipment if a student requests a recording for review. The Hauth center helps communication majors, but it is open for all majors.
The Hauth Center was developed by Luster E. Hauth and his wife, Audrey Hauth. Luster was a professor in the communications department at CSULB and he realized students needed more attention when it came to practicing public speaking. It was a difficult service to provide as a professor with many students across multiple classes. After retiring as a professor, Luster and Audrey decided to create the Hauth Center for Communication Skills. Audrey Hauth is a CLA alum and helped develop the Hauth Center mission statement that reads, "while enjoying life to the fullest and with a humanitarian spirit, the Hauth family mission focuses on family unity, love, and loyalty as we strive to make our world better."
Luster E. Hauth passed, but his legacy lives on through his wife Audrey and their two daughters, one named Sheree Hauth. Audrey and Sheree continue to be involved in the CSULB community, carrying on Luster's vision of giving back by helping students and improving educational resources. The Hauth's have also set up two fellowships for student employees at the Hauth Center. Students can apply each year in March for either the Luster E. Hauth fellowship or the Audrey Nichol Hauth fellowship.
Overseeing the fellowship students and the other peer consultants are Director Jamie Wiles and Assistant Director Eddie Ayala. Wiles and Ayala work to supply the service Luster E. Hauth saw was lacking on campus. The Center averages 1,000 students per semester. Director Wiles says, "My hope is that the Hauth Center can help them find their voice as a speaker! I hope we continue to be a connection to campus for students outside of their classes. I want the center to be a safe comfortable space for students to work on what matters most: communicating and connecting with others!" The future of the Hauth center will include partnering with the business department to send 800 business students a semester to help them with their business pitches and presentations.
Audree and Sheree Hauth have gone beyond the Hauth Center and contributed to the creation of the Hauth Lobby in the new Anna W. Ngai alumni center. The center recently had its grand opening and the Hauth Hall is now open to visitors. Audree Hauth hopes, "the alumni center will aid others to come back to CSULB and enjoy the Hauth lobby."
Both the Hauth Center and the Hauth Lobby help students with professional development. The center teaches communications and presentations, and the Lobby creates a space for networking. Neither the center nor the lobby would be possible without the contributions of the Hauth family. Audrey and Sheree are active in the community and CLA is proud to have them as part of the Long Beach family.