Beach Forensics Makes it to the Sweet 16
November 3, 2022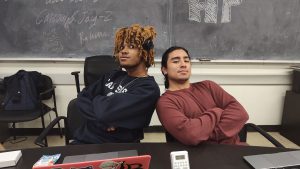 This past weekend, Beach Forensics competed in Policy Debate at the Jesuit Debates hosted by Gonzaga University. The team of Diego Flores (Junior, Political Science) and Curtis Ortega (Freshman, Film Studies) made it to the Sweet 16 at one of the most competitive intercollegiate debate tournaments in the country, in a field of 86 of the nation's top teams.
During the tournament, the duo had victories over CSU Northridge, the University of Wyoming, the University of Minnesota, the University of Kansas, and Wake Forest. In a field of 172 individual competitors, Flores was recognized as the 10th place speaker.
This success marks the continued effort and momentum of the team, who were the sole representatives of west coast intercollegiate debate in the Sweet 16.
Beach Forensics will head to El Camino College and CSU Northridge next weekend. Stay tuned for more updates on the team! GO BEACH!