Beach Forensics Wins!
September 17, 2019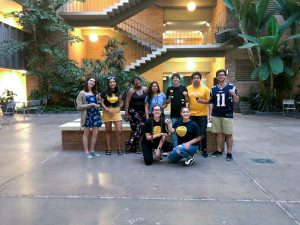 The CSULB Forensics team has returned from their season opener at Arizona State University with multiple wins.
The team had multiple individual awards: Novice, Maggie Franckhauser and Catherine Lucas-Castillo; Junior Varsity, Brad Schindler and Christian Vazquez; and in Varsity, Georgie Suico and Noah Christiansen all received awards.
In the team competition, the varsity freshman/freshman team of Georgie Suico and Noah Christiansen went undefeated in the preliminary debates, earning them the position as first seed in elimination rounds. Suico and Christiansen went on to win every single elimination debate, culminating in the first varsity policy debate tournament championship for CSULB since the year 2006. The team was then selected as one of the 9 individual debate teams to attend the elite and exclusive Val A. Browning Round Robin tournament in October.  The team earned victories over USC, Weber State, Arizona State, CSU Fullerton, Southwestern College, Fullerton College, CSU Northridge, and Fresno State.  Both Arizona State and USC were highly competitive at the National Debate Tournament last season.
Congratulations to all the Forensics team members and their coaches.