5 Students in the German MA program moving up
German Studies MA student Dionne Agawu has been accepted to the Austrian Fulbright English Teaching Associate program for 2020-2021.
Dionne Agawu received her BA from Bryn Mawr College in 2017 in German and Anthropology. There she served as class co-president and German major representative. In 2018 she began her MA in German Studies at California State University, Long Beach, where she has taught beginning and intermediate German classes. She also served on the conference organizing committee for the CSULB German Studies conference "Writing Revolutions: German Paradigms and Legacies of Resistance" in 2019. Upon completion of her Master's degree, she will depart for Klagenfurt, Austria to work as a US Teaching Assistant with the Austrian Fulbright program before attending law school to pursue a career in diplomacy.
German Studies MA student Luke Beller has accepted an offer to study in the German Studies PhD program at Johns Hopkins University.
Luke Beller received his BA in Classics at CSULB in 2015, and will receive his MA in German Studies in Spring 2020. He has delivered two academic conference papers at CSULB with a third coming this spring, a fourth to take place at the German Studies Association in the fall, and is currently working toward the publication of his first academic article on the philosophical correspondence between Friedrich Schiller and Christian Gottfried Körner. His interests include the intersections between German Enlightenment philosophy and Ancient Greek thought, German literature from the eighteenth to twentieth century, and the political traditions of Germany and the USA. He has been the Vice President of the German Studies Student Association, and is currently the Secretary of the College of Liberal Arts Student Council. He is also a Teaching Associate at CSULB and has taught four sections of Intermediate German. In recognition of his accomplishments in and outside of the classroom, he has received multiple departmental scholarships, the departmental Outstanding Teaching Associate Award for German (2018-2019), and an internship at the German Literature Archive in Marbach. Looking forward, he plans to begin studies in a PhD program this coming academic year.
German Studies MA student Elaine Chen has accepted an offer to study in the German Studies PhD program at Harvard University.
Elaine Chen received her BA in German Studies and Women's, Gender, and Sexuality Studies from California State University, Long Beach. After graduation, Elaine worked as an assistant director at the Schauspielhaus Salzburg theater and was awarded a stipend for the Nationaltheater Mannheim's annual Schiller Days festival. In Fall 2017, she returned to CSULB to begin an MA in German Studies, where she co-taught a course on German Social Drama with Professor Jeffrey L. High, with whom she also co-wrote and directed an adaptation of Schiller's "The Criminal of Lost Honor." From 2018-2019 she was a Fulbright Combined Grantee in Salzburg, Austria, where she taught English, attended classes at the University of Salzburg, interned at the Schauspielhaus Salzburg and the Salzburg Theater Festival, and conducted research on the influence of Kleist's novellas and suicide on Thomas Mann and Stefan Zweig. Upon returning to California, she directed Lessing's Emilia Galotti for CSULB's student-run
Theatre Threshold, and co-directed an adaptation of Büchner's Dantons Death with the students in their class on German Social Drama. She will graduate in Spring 2020 with a thesis on Mann and Zweig's literary interpretations of Kleist's novellas and suicide.
German Studies MA student Glen Gray has accepted an offer to study in the German Studies PhD program at Johns Hopkins University.
Glen Gray is currently pursuing an M.A. in German Studies at CSULB. He received a B.A. in German Studies and a B.M. in Music Composition from California State University, Long Beach (CSULB) in 2017. That same year, he presented a paper on Hans Werner Henze's Opera Der Prinz von Homburg at the 52nd Annual CSULB Comparative Literature Conference. In 2017-2018, he received a Fulbright Austria English Teaching Assistant position to teach in Vienna. He acted as musical director for the 2019 "German Art in SoCal-SoCal in German Art" conference at CSULB, where he curated and directed a musical program of the exile compositions of Kurt Weill and Hanns Eisler. He has premiered compositions at the 2016 conference "Drive-By Theatre Double Feature: Brecht+60/Kleist+205," at the 2019 "Oh My Ears" music festival, and is a co-founder of the Los Angeles Electroacoustic Ensemble, which performed at the 2019 "Hear Now Festival," and will present at the 2020 New Music Gathering in Portland. Glen was awarded a German Academic Exchange Commission grant to fund a research stay in Bonn, where he is writing his master's thesis on operatic adaptations of Kleist's drama Das Käthchen von Heilbronn. He plans to continue his academic pursuits in German and Music in a PhD program starting in Fall 2020.
German Studies MA student Courtney Yamagiwa has been accepted to the Austrian Fulbright English Teaching Associate program for 2020-2021.
Courtney Yamagiwa received her BAs in German Studies and Consumer Affairs from California State University, Long Beach in 2018 where she was recognized as the CLA Outstanding Baccalaureate Honoree and graduated with Phi Beta Kappa honors. In 2019 she was a recipient of the International Parliamentary Scholarship of the German Bundestag. Frau Yamagiwa has taught beginning and intermediate German at CSULB, and has worked as a Graduate Assistant for Professor Jeffrey L. High in University Honors Program courses on Heinrich von Kleist and Friedrich Schiller. Upon completing her Master's Degree she will depart for Klagenfurt, Austria to serve as a US Teaching Assistant with the English Language Teaching Assistantship Program of the Austrian Ministry of Education, Science and Research administered by Fulbright Austria before attending law school to pursue a career in politics.
Beach Forensics has qualified two teams to the National Debate Tournament (NDT)
Beach Forensics has qualified two teams to the National Debate Tournament (NDT). For those unfamiliar, the NDT is akin to "March Madness," or the NCAA Tournament for intercollegiate policy debate. CSU Long Beach has not qualified to this tournament since 2005, and the tournament is the nation's most prestigious debate competition between the top 72 two-person teams across the United States.
The teams of Georgie Suico (freshman) / Noah Christiansen (freshman) and Jaysyn Green (senior) / Christian Vazquez (junior) will represent CSU Long Beach at "The Big Dance" next month. This is an incredible feat for each team: Suico and Christiansen are first-year college students; Green joined the debate team just 4 semesters ago after a short stint in competitive speech, and Vazquez joined the debate team last fall as a true rookie with no prior experience. They are attending a tournament that some competitors never qualify to, even after 4 years of high school experience and 4 years of college experience. This is a testament to the incredible talent our students have, the hard work they have put toward refining their arguments and honing their skills, and the outstanding leadership that Deven Cooper (our Director of Debate) has exhibited to re-establish Beach Forensics as a national powerhouse in intercollegiate policy debate.
The squad picked up victories over several schools in our district this weekend, including Southwestern College, CSU Fullerton, Arizona State, Fresno State, Fullerton College, and UNLV. In the qualifying division, Vazquez was the 11th ranked speaker; Christiansen was the 8th ranked speaker; Suico was the 6th ranked speaker, and Green was the 4th ranked speaker. In the rookie division (called the "Pacific Championship"), the team of Natalie Lahney and Cat Lucas-Castillo also picked up several victories, earning the 7th and 6th place speaker awards respectively.
History Department Faculty Member Receives NEH 2020-2021 Fellowship
History Faculty member, Patricia Cleary received a fellowship from the National Endowment for the Humanities (NEH) for 2020-2021 to work on her next book, Mound City: The Place of the Indian Past and Present in St. Louis (under contract with University of Missouri Press). Below is a brief introduction:
In the mid-1800s, early daguerreotypist Thomas Easterly documented the physical transformation of St. Louis, Missouri, with striking images full of buildings, roads, and railways. While visually recording urban expansion, Easterly also chronicled the physical disappearance of St. Louis's indigenous past. Perhaps the most striking reminder of earlier inhabitants was the Big Mound, a massive earthen structure over 300 feet long, 100 feet wide, and 30 feet tall. Part of a ceremonial district erected by Mississippian Mound Builders hundreds of years earlier, it was the largest of over two dozen mounds that dominated the skyline and gave the early city its claim to fame. During the nineteenth century, all of these monumental earthworks—except one outlier—were razed. This project explores the life, death, and afterlife of the mounds, exploring their cultural significance for both ancient and contemporary indigenous peoples and non-Indian peoples as well. It examines both the literal destruction of Indian cultural artifacts and the narrative erasure of Indian peoples in histories of the city's development.
Beach Forensics Wins at the Hannie Shaft Invitational at Southwestern College
The last regular season tournament for Beach Forensics' policy debate team concluded this afternoon, the Hannie Shaft Invitational at Southwestern College.
In the rookie division, the team of Natalie Lahney and Chris Steveson finished with a 3-3 record. At his debut tournament, Chris was recognized as the 4th
speaker in the division, an impressive feat considering he joined the squad two weeks ago and was competing against rookies who have debated all season!
In the varsity division, the team of Jaysyn Green and Christian Vazquez finished with a 4-2 record, narrowly missing an elimination round appearance by a slim margin. The team of Georgie Suico and Noah Christiansen finished preliminary debates with a 5-1 record, advancing to elimination rounds as a the top seed at the tournament. Suico and Christiansen were the TOP TWO individual speakers at the tournament, and went on to win the tournament championship! This freshman/freshman team won the season opener tournament in varsity, and ends the regular season with another tournament win!
At the Hannie Shaft, the squad picked up victories over teams from Arizona State, Cal State Fullerton, Fullerton College, Southwestern College, UNLV, and Weber State. It's worth mentioning that the teams from UNLV and Weber State were among the top 32 teams at the Texas Open last weekend in a field of more than 100 of the nation's best teams (of which we cannot attend because of the travel ban), and the team of Suico and Christiansen beat those teams twice each, in the preliminary debates and again in elimination debates on their way to the championship.
Beach Forensics looks to keep the momentum going as we gear up for the USC British Parliamentary Championship next weekend, the District I Pacific Championship and National Debate Tournament Qualifier in two weekends, and the PSCFA Spring Championship in two weekends.
For more information on Beach Forensics, check out their website at: https://cla.csulb.edu/departments/communicationstudies/beachforensics/
Sociology Faculty Honors – Dr. Jan Haldipur
Two Books Named as Co-Winners of Goddard Riverside Stephan Russo Book Prize for Social Justice
For a digital press packet including author and book jacket photos, associated logos, and a photo of the judges' panel, go to goddard.org/packet2019

[NEW YORK CITY — October 22, 2019] Two exceptional books about violence and criminal justice in America have been named as co-winners of this year's Goddard Riverside Stephan Russo Book Prize for Social Justice.
No Place on the Corner: The Costs of Aggressive Policing by Jan Haldipur (NYU Press, 2018) and An American Summer: Love and Death in Chicago by Alex Kotlowitz (Nan A. Talese, 2019) were announced as winners at Goddard Riverside's Annual Gala. The award, now in its third year, celebrates the power of the written word to create change in the name of justice for all.
This is the first time the prize has been shared by two titles. "We did this because we think these books are very complementary," explained Douglas Bauer, chair of the judges' panel and executive director of The Clark Foundation. "Between them they tell the very unfortunate story of the impact of gun violence on urban communities."
Through in-depth interviews, An American Summer chronicles the lasting impacts of shootings in Chicago — on survivors, family members, children, schools, friends, neighbors, and even the shooters themselves. No Place on the Corner uses the lens of a three-year ethnographic study to explore how aggressive policing tactics, such as stop-and-frisk, traumatized a South Bronx community and made public spaces off-limits to local residents.
Along with Bauer, the distinguished slate of judges includes Paul Krugman, New York Times columnist and Nobel Prize winner; Marcia Cantarella, university administrator and author of I CAN Finish College: The Overcome Any Obstacle and Get Your Degree Guide; Nancy Wackstein, former executive director of United Neighborhood Houses of New York; and Michael Zisser, former CEO of University Settlement and The Door. The book prize is named after Stephan Russo, who served as executive director of Goddard Riverside from 1998 to 2017.
Link to the complete press release article: https://www.goddard.org/grcc/news/press-releases/Prize2019/
Beach Forensics Wins!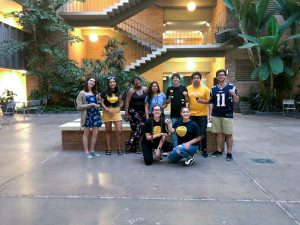 The CSULB Forensics team has returned from their season opener at Arizona State University with multiple wins.
The team had multiple individual awards: Novice, Maggie Franckhauser and Catherine Lucas-Castillo; Junior Varsity, Brad Schindler and Christian Vazquez; and in Varsity, Georgie Suico and Noah Christiansen all received awards.
In the team competition, the varsity freshman/freshman team of Georgie Suico and Noah Christiansen went undefeated in the preliminary debates, earning them the position as first seed in elimination rounds. Suico and Christiansen went on to win every single elimination debate, culminating in the first varsity policy debate tournament championship for CSULB since the year 2006. The team was then selected as one of the 9 individual debate teams to attend the elite and exclusive Val A. Browning Round Robin tournament in October.  The team earned victories over USC, Weber State, Arizona State, CSU Fullerton, Southwestern College, Fullerton College, CSU Northridge, and Fresno State.  Both Arizona State and USC were highly competitive at the National Debate Tournament last season.
Congratulations to all the Forensics team members and their coaches.
CLA Congratulates 2019 University Achievement Award Recipients
CLA is proud of our faculty, staff and students who were this year's award winners. Please join me in congratulating:
Outstanding Graduate Research Student Award
Olivia Silke, Psychology, College of Liberal Arts
Olivia Silke is a second-year graduate student in the Masters of Arts in Psychology Research Program. Since beginning the program, she has completed her thesis proposal and presented nine, first authored paper and poster presentations at professional and university-based conferences. 
She continues to thrive in her program as a CSULB Graduate Research Fellow and as the American Psychological Association's Junior Scientist Fellow. Her master's project (built on a larger NIH-funded study) examines the role of maternal mindful disposition, or one's ability to maintain present moment awareness, on multifaceted-stress responses. Silke's research aims to conceptualize stress in low-income perinatal mothers and their infants by investigating multiple pathways of action, including: the hypothalamic pituitary adrenal axis, the sympathetic adrenal medullary axis, and perceived stress. 
Silke plans to obtain her PhD in health psychology where she can expand upon this research. She aims to: address gaps in research by including diverse samples; outline biological outcomes linked with mindfulness; and increase mind-body prenatal programs in community settings. 
Having dedicated over 20 hours per week to research methodology, design, and analysis, her future as a scientific researcher is bright. 
Outstanding Undergraduate Research Student Award
Lizbeth Castillo Monterrosa, International Studies, College of Liberal Arts
Lizbeth Castillo Monterrosa is a 4.0 GPA, International Studies major who has been welcomed into competitive programs such as the University Honors Program, the Building Infrastructure Leading to Diversity (BUILD) Research Program, and the McNair Scholars Program.
She began her research journey at the end of her freshmen year when she was able to conduct ethnographic fieldwork in Costa Rica, alongside her research mentor Dr. Fouratt. They initiated a research project focused on migrants and refugees and collaborated with a local non-profit organization, RET International, to host a digital storytelling workshop. The purpose of the workshop was to show migrant youth how voicing their migration experiences can serve as foundation to addressing wider anti-immigrant sentiments.
After her time abroad, Castillo continued working on this project with Dr. Fouratt through UROP and now BUILD at CSULB. They currently find them- selves in the final stages of this work as they prepare to publish a manuscript. Through research, Castillo ultimately seeks to improve immigrant rights and refine the U.S. discourse on immigration by showing that immigration is not just a domestic issue but a global one as well. Her wider research aims also coincide with her aspiration of a future career in government.
Castillo is a first-generation student who excels in applying her skills and time outside of the classroom and eventually she hopes to pursue a JD and PhD in Public Health. Coming up next for Castillo is the GRE test, graduate school program applications and a summer internship in New Mexico. Here, she hopes to work directly with migrants and refugees at the US-Mexican border.
Susan Tsuji, ASC History Department
Susan Tsuji's influence and dedication to CSULB has been reflected to not only her department, but to the entire campus as well. She is the department coordinator and graduate coordinator for the Department
of History, and an active member of the campus community since 2011.
"Susan is without a doubt the first ASC in my thirty years who not only inspires trust in how she carries out her responsibilities, but who combines her performance skills with humor, thoughtfulness, and kindness," said Dr. David Shafer, chair of CSULB's Department of History.
Currently, she is a CSULB Staff Council representative, member of the council's Special Events Committee and is the chair of the Staff Council's Staff Development Committee. Since she plays a key role in Staff Council, her duties range from coordinating education for staff engagement to planning staff campus events.
Tsuji also serves in the Campus Climate Committee of the Academic Senate, a General Financial Need Scholarship Application Reviewer, and formerly as the Staff Council Treasurer.
As an active volunteer in the community, Tsuji also volunteered for the Cabrillo Marine Aquarium from 2002 to 2011. During her tenure she received the Distinguished Volunteer Achievement Award by the aquarium.
Nicholas Perkins Hardeman Academic Leadership Award
Dr. Norbert Schürer, English Department
Dr. Norbert Schürer joined the English Department at CSULB in 2003. He teaches courses and does research on literary theory, 18th-century British literature, and on major authors such as Jane Austen and
J.R.R. Tolkien. His recent publications include the anthology British Encounters with India with Tim Keirn (2011), the collection of primary materials Charlotte Lennox: Correspondence and Miscellaneous
Documents (2012), the cultural guide Berlin (2014) and the Long Beach local history study Boom and Bust: Miner Smith and his 1920s California Bungalow Mansions (2015).
He engages with students not just beyond the classroom, but beyond the country: Every other winter session he and Tim Keirn take students to India for a study-abroad experience.
Schürer was elected a member of the Academic Senate in 2008, became a member of the Executive Committee in 2014, and has been Chair of the Academic Senate since 2016. He models the importance of shared governance across all levels and divisions on campus. He worked on projects such as the General Education policy and the new CSULB definition of student success. His main interest has been improving communication on campus and ensuring that all constituents are consulted in all decision. Schürer's success in his role as Chair has been based on his ability to maintain key collaborations in all academic environments.
Community Service Award - Staff
Mitra Baghdadi, Department Coordinator, Anthropology
Mitra Baghdadi is involved in issues related to diversity, social justice, equity, and equality at a local and national level. She is a member and has served as Board of Directors for the Iranian-Persian American
Association of Greater Long Beach (IPAA), which aims to promote the Persian/American community's involvement in local social events. She also runs fundraisers and donations for the Rescue Mission of
Long Beach and Homelessness Services. 
In addition Baghdadi links the CSULB Anthropology department with City Council Member Suzie Price, and the Long Beach Homeless Services. United, they research the challenges of outreach and service provision to the wide-ranging homeless population.
Baghdadi's concerns for the community extend to national and international issues such as the travel ban. For example, in 2017 she reached out to Representative Alan Lowenthal's office to speak about the legal and social consequences of President Trump's so called "travel ban." She organized a group of students to attend a town hall meeting to speak with Representative Lowenthal. Baghdadi worked to help students impacted by this Executive Order to find free legal advice and to access necessary counseling services.
As the Chair of Diversity for the American Association of University Women in state of California, Baghdadi promotes women empowerment. She developed research tools and educational programming to study and expand diversity and inclusion in membership throughout AAUW California.
One of Baghdadi's most recent achievements is her new position as one of the staff representatives for the President's Commission on the Status of Women. She now partakes in the Publicity & Public Relations Committee and the Colloquium Committee within the organization.
For the complete list of award recipients, please read the article: https://www.csulb.edu/office-of-the-provost/university-achievement-awards
Two CLA Students Win 1st Place in the 33rd Annual California State University Student Research Competition
California State University, Fullerton (CSUF) played host to the 33rd Annual California State University Student Research Competition on Friday, April 26th and Saturday, the 27th, 2019. This system-wide competition showcased the innovative research and creative activities of CSU undergraduate and graduate students in the full range of academic programs offered by the CSU. Student participants made oral presentations before juries of professional experts from major corporations, foundations, public agencies, colleges and universities of California.
The competition is held annually to promote excellence in undergraduate and graduate scholarly research and creative activity. It recognizes outstanding student accomplishments from throughout the twenty-three campuses of the California State University.
Session 1 – Behavioral and Social Sciences, Undergraduate
Yohanna Brown, CSU Long Beach 1st 
The Role of Glucagon Like Peptide 1 Receptors on the Rewarding
Effects of Oxycodone in Male and Female Adolescent Rats
Session 9 – Humanities and Letters, Graduate
Avery Amerson, CSU Long Beach 1st 
Wittgenstein, Extended Cognition, and the Problem of Other Minds
Both Yohanna and Avery also placed 1st in the CSULB competition.  Please join us in congratulating Yohanna and Avery on their awards.
CAL STATE LONG BEACH RANKS IN TOP THREE IN NATIONAL PUBLIC RELATIONS STUDENT COMPETITION
Five Students Named Finalists in the National Collegiate PRSSA Bateman Competition
LONG BEACH, Calif. (April 19, 2019) – For the second year in a row, California State University, Long Beach (CSULB) students from the Department of Journalism & Public Relations are national finalists in Public Relations Student Society of America's (PRSSA) 2019 Bateman Case Study Competition, a contest for students that serves as a national ranking of public relations programs across the country.
CSULB's student-led team, comprised of Ines Torres, Britny Coker-Moen, Andie Paredes, Samantha Storrey and Louis Lopez, was chosen from 66 teams across the U.S. to present their case to a panel of judges May 16-17 in New York. They will be competing against Brigham Young University and University of South Carolina for the top prize. Honorable mentions included University of Florida, Temple University, Samford University, Ohio University and University of Alabama, among others.
The competition gives top students an opportunity to apply their classroom education by creating and implementing a full public relations campaign for a real-life client, from research through evaluation. Team members go through an application and rigorous interview process before being asked to join the team.
This year's client was the PRSA Foundation, a 501(c)(3) organization that supports programs that attract, assist and prepare young adults from diverse backgrounds to enter the public relations profession, and works with employers and industry organizations to create workplace-based inclusion efforts to welcome, support and retain a diverse workforce. CSULB's "Diversity LB" campaign raised awareness among students, professionals and the community on the issues surrounding the lack of diversity in the workforce and empowered students and professionals to make a change in the ethnic diversity of the workforce. The campaign featured several events; the creation of an original e-book featuring stories from CSULB students, alumni and professionals; and launch of a mentorship program with the goal of increasing diverse rising talent.
"As part of an emerging majority, I am proud to be a part of this campaign because I want to educate others on how important diversity is and how it can play an important part in the success of a company," said Ines Torres, Bateman team leader and president of PRSSA Long Beach. "Being undocumented, and coming this far in my college career, representation in the field is very important to me. We are part of such an innovative field and it is constantly moving forward, it is our responsibility to move with it."
All participating Bateman teams across the U.S. are assigned the same client, and then develop a campaign to help the client achieve its goals. Traveling with the team will be its academic advisor Krista Coriaty, CSULB alumna and public relations professor in CSULB's Department of Journalism & Public Relations.
"I couldn't be more proud of how well this team represented our university and brought our students and professionals together to support the mission of the PRSA Foundation," said Coriaty. "I'm honored to serve as a coach as our students travel to New York to present to the judges and client, which will provide them with additional experience that will be invaluable as they enter the working world."
At the Bateman Case Study Competition finals, the first-place team will receive $3,500 and a trophy; the second-place team will receive $2,500 and a plaque; and the third-place team will receive $1,500 and a plaque. The finalist teams will also be recognized during the PRSSA 2019 National Conference.
Media contact: Krista Coriaty
(562) 413-2237 | krista.coriaty@csulb.edu
Cal State Long Beach Ranks No. 3 in Zippia's Best Colleges for Human Development Majors in California
LONG BEACH, Calif. (Nov. 7, 2017) – A key attraction to choosing human development as a course of college study is the flexible career choices it provides, with futures possible in fields like social work, counseling, criminal justice, nursing, law and medicine.  For California State University Long Beach's human development majors, these myriad career choices are made possible because of an excellent education.
Career resource website Zippia recently recognized this excellence, ranking Cal State Long Beach at No. 3 among California's colleges and universities for human development majors.
"Human Development's success can be attributed to a well-established multidisciplinary program that prepares students for a variety of careers through addressing the dynamic social issues facing family and communities today," said Dr. Deborah Thien, department of geography professor and human development's acting chair. "Our students learn skills in cultural competence, research evaluation and critical thinking and hone these skills in HDEV's labs, through their own or their faculty's research and in their required senior practicum class. Equipped with these skills, HDEV students step readily into education, social work, physical therapy and other fields. HDEV has experienced tremendous growth with an influx of dedicated students and talented faculty and anticipates further student successes demonstrating the value of a liberal arts education."
Using research from the U.S. Department of Education's College Scorecard Data and the National Center for Education Statistics, Zippia looked at admission and graduation rates, percentage of graduating class that are human development majors, and career results like mean earnings after six and 10 years as well as job retention rates.
UC Davis topped Zippia's list of California's best colleges for those majoring in human development. UC San Diego was second; Cal State San Marcos and Cal State East Bay rounded out the top five.