Beach Forensics Continued Building Its Momentum
Beach Forensics continued building its momentum over another few busy weekends of competition. Two weekends ago, the team of Benjamin Robbins and Samra Tekle finished as finalists in Junior British Parliamentary Debate at the Mahaffey Memorial Tournament. That same weekend, Rachel Thibodeaux finished as a finalist in the rookie division at the American Debate Association Fall Championship. Thibodeaux advanced to the elimination debates as the 4th seed, and was recognized as the top individual speaker at the tournament – Thibodeaux's fourth consecutive 1st place speaker finish!
Last weekend, the team competed at Diablo Valley College. Rebecca Cantor finished in 2nd place in novice After Dinner Speaking. The team of Sebastian Chavez and Rachel Thibodeaux advanced to the Elite 8 in Open Parliamentary Debate.
Stay tuned for more updates! Beach Forensics will round out the semester with several back-to-back tournaments, and we hope to keep our momentum going strong!
Beach Forensics Wins Again: A Very Successful Start to Fall
Beach Forensics has had a busy few weekends chocked full of success. A few weekends ago, the team competed at the Crossman Invitational Tournament in National Parliamentary Debate and International Public Debate. In National Parliamentary Debate, the team of Sebastian Chavez and Rachel Thibodeaux advanced to the Round of 32, with Thibodeaux being recognized as the 10th place individual speaker. In International Public Debate, Jemmy Monroe received a silver medal and was recognized as the 2nd place individual speaker, and Rachel Thibodeaux received a silver medal, winning the coveted 1st place individual speaker award at the tournament.
Over Halloween weekend, the team competed in Policy Debate at the Jesuit Invitational, hosted by Gonzaga University. In the open division, the team of Diego Flores and Noah Christiansen finished with a 3-3 record, barely missing out on a Round of 32 appearance. In the rookie division, the team of Christopher Steveson and Rachel Thibodeaux advanced to the elimination debates as the 2nd seed, making it all the way to the Final Four where they were defeated on a razor thin 3-2 decision. Steveson was recognized as the 4th place speaker in the division, and Thibodeaux was recognized as the 1st place individual speaker! Overall, the team picked up victories over CSU Fullerton, Arizona State University, Monmouth, University of Mary Washington, Western Washington University, the University of Louisville, and Georgetown.
This past weekend, the team hosted the annual Fall at the Beach Invitational and fielded two teams in Policy Debate. In the rookie division, the team of Garret Novak and Rachel Thibodeaux advanced to the elimination debates as the 2nd seed, making it to the championship debate and finishing in 2nd place after a very close 2-1 defeat in the final round. Novak was recognized as the 10th place individual speaker (at Novak's debut tournament!), and Thibodeaux was recognized as the 1st place individual speaker in the division. That marks three consecutive tournaments that Thibodeaux has not only advanced to the elimination debates of a tournament, but also was recognized as the top individual speaker at the tournament! In the open division, the team of Diego Flores and Noah Christiansen went undefeated, advancing to the elimination debates as the number one seed and going on to win the tournament championship against NYU! Flores was recognized as the 2nd place speaker in the division, and Christiansen was awarded the 1st place speaker in the division! Stay tuned for more updates as Beach Forensics continues building momentum!
Beach Forensics Starts 2020-2021 Season Strong
Beach Forensics concluded two consecutive weekends of competitive speech and debate tournament action with a strong start to the 2020-2021 season. On September 19, 20, and 21, Beach Forensics hosted the annual Jack Howe Memorial Invitational, one of the largest middle and high-school speech and debate tournaments in the nation. Adapting to the circumstances brought on by the pandemic, Beach Forensics hosted the tournament virtually, welcoming nearly 5,000 competitors and guests from more than 30 states, as well as Canada and China. The tournament went smoothly and was a resounding success, largely due to the incredible dedication and effort from members of Beach Forensics, the program's graduate assistants, Director of Debate Deven Cooper, and Director of Speech Aaron Fullman. It was an important tournament weekend, since the virtual Jack Howe Memorial Invitational set the bar high for subsequent speech and debate competitions across the nation.
This past weekend, Beach Forensics policy debate team had its season opener at the 3rd Annual Phyllis Schatz Invitational, hosted by Binghamton University in Binghamton, New York. At the competition, the team of Noah Christiansen (Sophomore) and Diego Flores (Freshman) finished the preliminary debates undefeated, advancing to the elimination debates as the top seed. Christiansen and Flores advanced all the way to the Final Four, finishing in third place. Christiansen was also recognized as the 8th ranked speaker at the tournament, and this was Flores' debut tournament as a member of Beach Forensics. The duo picked up victories over Baylor University, University of Houston, Liberty University, George Mason University, and Wake Forest throughout the competition. Beach Forensics plans to continue building momentum at their upcoming competitions, staying on course to qualify to the National Debate Tournament for a second consecutive season.
Beach Forensics is CSULB's full-service competitive speech and debate team, open to all students, regardless of prior experience or major. For more information on Beach Forensics, please contact Aaron Fullman, Director of Speech, at Aaron.Fullman@CSULB.edu or Deven Cooper, Director of Debate, at Deven.Cooper@CSULB.edu. GO BEACH!
Beach Forensics wins 2020 Cross-Examination Debate Association (CEDA) National Championship Annual Awards
Although the 2020 Cross-Examination Debate Association (CEDA) National Championship tournament was cancelled due to COVID-19, the organization decided to proceed with their annual awards virtually by announcing them on the organization's Facebook page. I'm pleased to share that CSU Long Beach's Beach Forensics team received four of the organization's most coveted awards this year. Information about the awards and the recipients is below!
First – senior Jaysyn Green (Team President) and freshman Georgie Suico were recognized as 2020 Cross-Examination Debate Association (CEDA) All-Americans. This is no simple feat – to make the All-American team, a committee decides on the top 30 individual competitors in the nation "who represent the best of intercollegiate debate. They each demonstrate competitive success, academic success, good conduct, and strong contributions to their squad." Congratulations to Jaysyn and Georgie!
Second – Our Director of Debate, Deven Cooper, is the recipient of the 2020 CEDA Brownlee Coach of the Year Award. The Brownlee Award "is given annually to a forensic educator who demonstrates outstanding achievement in scholarship, education and service to CEDA. The award is named in honor of longtime coach and founding CEDA member Don Brownlee. The ideal candidate demonstrates some element of all three factors (scholarship, education and service to CEDA)." To see some of what the nominator and others had to say about Deven, please see: 
https://docs.google.com/document/d/1xt2Orue4_omHj79N4K8WpbCUeXeWGVAZQvq-PYF2O_k/edit?fbclid=IwAR0GpP4SFQ5rGr1RFow3JE29gfaoz1i8GN_LUaGqnvclPgx-X7b_gvUPTMc
It is my pleasure to announce the 2020 CEDA Brownlee Award winner – Deven Cooper. Before I go into details to explain why Deven is so deserving of this award, let me just first say that I am consistently in awe and humbled by the devotion and hard work that Deven does for Beach Forensics and the …

docs.google.com
Finally – Beach Forensics is the 2020 recipient of the CEDA Public Debate Award. This award "is given to the intercollegiate debate program which, over the course of the past academic year, has best advanced the values of debate in the public sphere through sponsorship of one or more public debate activities including international public debates, multimedia debates, public debates on campus or for community groups, and through general promotion of public discourse to promote critical examination of public issues for diverse and general audiences."
Here is what the awards committee had to say about Beach Forensics:
Our 2020 National Public Debate Award winner is Cal-State Long Beach! Beach Forensics earned the incredible honor on the strength of three major factors:
1) Advancing the values of debate into the public sphere on a range of highly salient public controversies. Beach Forensics sponsored over half a dozen different public debate events, including events on voter suppression, the Green New Deal, Earth Day, and the costs of higher education. Beach Forensics also paired with groups like domestic partners like TedxCSLUB and international partners like the Irish National Debate Team.
2) Beach Forensics promoted critical examination of public issues for diverse and general audiences. Beach Forensics has co-sponsored important events on the election debates in partnership with Student Government, and it has used those events as a venue to substantially increase the number of new entrants into policy debate. Over half of the current Long Beach squad is made up of true novices who have joined the team because of interaction with these events and other important course offerings.
3) Beach Forensics used public debate to expose a more general and diverse population to the wonders of competitive debate. Beach Forensics has implemented a service-learning program on campus, sponsored by 5 different courses available to students of all majors and backgrounds, which reaches more than 2,000 students each season, and allows Beach Forensics to host more than 10,000 annual guests on campus for competitive debate opportunities.
Congratulations and thank you to Michael Eisenstadt, Deven Cooper, and the entire Long Beach debate team for your inspiring efforts to use public debate as a tool for community engagement!
Beach Forensics has qualified two teams to the National Debate Tournament (NDT)
Beach Forensics has qualified two teams to the National Debate Tournament (NDT). For those unfamiliar, the NDT is akin to "March Madness," or the NCAA Tournament for intercollegiate policy debate. CSU Long Beach has not qualified to this tournament since 2005, and the tournament is the nation's most prestigious debate competition between the top 72 two-person teams across the United States.
The teams of Georgie Suico (freshman) / Noah Christiansen (freshman) and Jaysyn Green (senior) / Christian Vazquez (junior) will represent CSU Long Beach at "The Big Dance" next month. This is an incredible feat for each team: Suico and Christiansen are first-year college students; Green joined the debate team just 4 semesters ago after a short stint in competitive speech, and Vazquez joined the debate team last fall as a true rookie with no prior experience. They are attending a tournament that some competitors never qualify to, even after 4 years of high school experience and 4 years of college experience. This is a testament to the incredible talent our students have, the hard work they have put toward refining their arguments and honing their skills, and the outstanding leadership that Deven Cooper (our Director of Debate) has exhibited to re-establish Beach Forensics as a national powerhouse in intercollegiate policy debate.
The squad picked up victories over several schools in our district this weekend, including Southwestern College, CSU Fullerton, Arizona State, Fresno State, Fullerton College, and UNLV. In the qualifying division, Vazquez was the 11th ranked speaker; Christiansen was the 8th ranked speaker; Suico was the 6th ranked speaker, and Green was the 4th ranked speaker. In the rookie division (called the "Pacific Championship"), the team of Natalie Lahney and Cat Lucas-Castillo also picked up several victories, earning the 7th and 6th place speaker awards respectively.
Beach Forensics Wins at the Hannie Shaft Invitational at Southwestern College
The last regular season tournament for Beach Forensics' policy debate team concluded this afternoon, the Hannie Shaft Invitational at Southwestern College.
In the rookie division, the team of Natalie Lahney and Chris Steveson finished with a 3-3 record. At his debut tournament, Chris was recognized as the 4th
speaker in the division, an impressive feat considering he joined the squad two weeks ago and was competing against rookies who have debated all season!
In the varsity division, the team of Jaysyn Green and Christian Vazquez finished with a 4-2 record, narrowly missing an elimination round appearance by a slim margin. The team of Georgie Suico and Noah Christiansen finished preliminary debates with a 5-1 record, advancing to elimination rounds as a the top seed at the tournament. Suico and Christiansen were the TOP TWO individual speakers at the tournament, and went on to win the tournament championship! This freshman/freshman team won the season opener tournament in varsity, and ends the regular season with another tournament win!
At the Hannie Shaft, the squad picked up victories over teams from Arizona State, Cal State Fullerton, Fullerton College, Southwestern College, UNLV, and Weber State. It's worth mentioning that the teams from UNLV and Weber State were among the top 32 teams at the Texas Open last weekend in a field of more than 100 of the nation's best teams (of which we cannot attend because of the travel ban), and the team of Suico and Christiansen beat those teams twice each, in the preliminary debates and again in elimination debates on their way to the championship.
Beach Forensics looks to keep the momentum going as we gear up for the USC British Parliamentary Championship next weekend, the District I Pacific Championship and National Debate Tournament Qualifier in two weekends, and the PSCFA Spring Championship in two weekends.
For more information on Beach Forensics, check out their website at: https://cla.csulb.edu/departments/communicationstudies/beachforensics/
Beach Forensics Wins!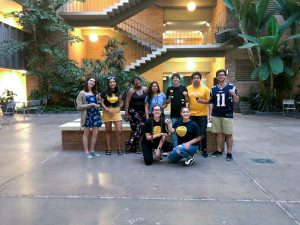 The CSULB Forensics team has returned from their season opener at Arizona State University with multiple wins.
The team had multiple individual awards: Novice, Maggie Franckhauser and Catherine Lucas-Castillo; Junior Varsity, Brad Schindler and Christian Vazquez; and in Varsity, Georgie Suico and Noah Christiansen all received awards.
In the team competition, the varsity freshman/freshman team of Georgie Suico and Noah Christiansen went undefeated in the preliminary debates, earning them the position as first seed in elimination rounds. Suico and Christiansen went on to win every single elimination debate, culminating in the first varsity policy debate tournament championship for CSULB since the year 2006. The team was then selected as one of the 9 individual debate teams to attend the elite and exclusive Val A. Browning Round Robin tournament in October.  The team earned victories over USC, Weber State, Arizona State, CSU Fullerton, Southwestern College, Fullerton College, CSU Northridge, and Fresno State.  Both Arizona State and USC were highly competitive at the National Debate Tournament last season.
Congratulations to all the Forensics team members and their coaches.
CLA Congratulates 2019 University Achievement Award Recipients
CLA is proud of our faculty, staff and students who were this year's award winners. Please join me in congratulating:
Outstanding Graduate Research Student Award
Olivia Silke, Psychology, College of Liberal Arts
Olivia Silke is a second-year graduate student in the Masters of Arts in Psychology Research Program. Since beginning the program, she has completed her thesis proposal and presented nine, first authored paper and poster presentations at professional and university-based conferences. 
She continues to thrive in her program as a CSULB Graduate Research Fellow and as the American Psychological Association's Junior Scientist Fellow. Her master's project (built on a larger NIH-funded study) examines the role of maternal mindful disposition, or one's ability to maintain present moment awareness, on multifaceted-stress responses. Silke's research aims to conceptualize stress in low-income perinatal mothers and their infants by investigating multiple pathways of action, including: the hypothalamic pituitary adrenal axis, the sympathetic adrenal medullary axis, and perceived stress. 
Silke plans to obtain her PhD in health psychology where she can expand upon this research. She aims to: address gaps in research by including diverse samples; outline biological outcomes linked with mindfulness; and increase mind-body prenatal programs in community settings. 
Having dedicated over 20 hours per week to research methodology, design, and analysis, her future as a scientific researcher is bright. 
Outstanding Undergraduate Research Student Award
Lizbeth Castillo Monterrosa, International Studies, College of Liberal Arts
Lizbeth Castillo Monterrosa is a 4.0 GPA, International Studies major who has been welcomed into competitive programs such as the University Honors Program, the Building Infrastructure Leading to Diversity (BUILD) Research Program, and the McNair Scholars Program.
She began her research journey at the end of her freshmen year when she was able to conduct ethnographic fieldwork in Costa Rica, alongside her research mentor Dr. Fouratt. They initiated a research project focused on migrants and refugees and collaborated with a local non-profit organization, RET International, to host a digital storytelling workshop. The purpose of the workshop was to show migrant youth how voicing their migration experiences can serve as foundation to addressing wider anti-immigrant sentiments.
After her time abroad, Castillo continued working on this project with Dr. Fouratt through UROP and now BUILD at CSULB. They currently find them- selves in the final stages of this work as they prepare to publish a manuscript. Through research, Castillo ultimately seeks to improve immigrant rights and refine the U.S. discourse on immigration by showing that immigration is not just a domestic issue but a global one as well. Her wider research aims also coincide with her aspiration of a future career in government.
Castillo is a first-generation student who excels in applying her skills and time outside of the classroom and eventually she hopes to pursue a JD and PhD in Public Health. Coming up next for Castillo is the GRE test, graduate school program applications and a summer internship in New Mexico. Here, she hopes to work directly with migrants and refugees at the US-Mexican border.
Susan Tsuji, ASC History Department
Susan Tsuji's influence and dedication to CSULB has been reflected to not only her department, but to the entire campus as well. She is the department coordinator and graduate coordinator for the Department
of History, and an active member of the campus community since 2011.
"Susan is without a doubt the first ASC in my thirty years who not only inspires trust in how she carries out her responsibilities, but who combines her performance skills with humor, thoughtfulness, and kindness," said Dr. David Shafer, chair of CSULB's Department of History.
Currently, she is a CSULB Staff Council representative, member of the council's Special Events Committee and is the chair of the Staff Council's Staff Development Committee. Since she plays a key role in Staff Council, her duties range from coordinating education for staff engagement to planning staff campus events.
Tsuji also serves in the Campus Climate Committee of the Academic Senate, a General Financial Need Scholarship Application Reviewer, and formerly as the Staff Council Treasurer.
As an active volunteer in the community, Tsuji also volunteered for the Cabrillo Marine Aquarium from 2002 to 2011. During her tenure she received the Distinguished Volunteer Achievement Award by the aquarium.
Nicholas Perkins Hardeman Academic Leadership Award
Dr. Norbert Schürer, English Department
Dr. Norbert Schürer joined the English Department at CSULB in 2003. He teaches courses and does research on literary theory, 18th-century British literature, and on major authors such as Jane Austen and
J.R.R. Tolkien. His recent publications include the anthology British Encounters with India with Tim Keirn (2011), the collection of primary materials Charlotte Lennox: Correspondence and Miscellaneous
Documents (2012), the cultural guide Berlin (2014) and the Long Beach local history study Boom and Bust: Miner Smith and his 1920s California Bungalow Mansions (2015).
He engages with students not just beyond the classroom, but beyond the country: Every other winter session he and Tim Keirn take students to India for a study-abroad experience.
Schürer was elected a member of the Academic Senate in 2008, became a member of the Executive Committee in 2014, and has been Chair of the Academic Senate since 2016. He models the importance of shared governance across all levels and divisions on campus. He worked on projects such as the General Education policy and the new CSULB definition of student success. His main interest has been improving communication on campus and ensuring that all constituents are consulted in all decision. Schürer's success in his role as Chair has been based on his ability to maintain key collaborations in all academic environments.
Community Service Award - Staff
Mitra Baghdadi, Department Coordinator, Anthropology
Mitra Baghdadi is involved in issues related to diversity, social justice, equity, and equality at a local and national level. She is a member and has served as Board of Directors for the Iranian-Persian American
Association of Greater Long Beach (IPAA), which aims to promote the Persian/American community's involvement in local social events. She also runs fundraisers and donations for the Rescue Mission of
Long Beach and Homelessness Services. 
In addition Baghdadi links the CSULB Anthropology department with City Council Member Suzie Price, and the Long Beach Homeless Services. United, they research the challenges of outreach and service provision to the wide-ranging homeless population.
Baghdadi's concerns for the community extend to national and international issues such as the travel ban. For example, in 2017 she reached out to Representative Alan Lowenthal's office to speak about the legal and social consequences of President Trump's so called "travel ban." She organized a group of students to attend a town hall meeting to speak with Representative Lowenthal. Baghdadi worked to help students impacted by this Executive Order to find free legal advice and to access necessary counseling services.
As the Chair of Diversity for the American Association of University Women in state of California, Baghdadi promotes women empowerment. She developed research tools and educational programming to study and expand diversity and inclusion in membership throughout AAUW California.
One of Baghdadi's most recent achievements is her new position as one of the staff representatives for the President's Commission on the Status of Women. She now partakes in the Publicity & Public Relations Committee and the Colloquium Committee within the organization.
For the complete list of award recipients, please read the article: https://www.csulb.edu/office-of-the-provost/university-achievement-awards
94-Year-Old CSULB Student Is Enjoying Life On Campus
Inside a classroom at Cal State Long Beach, there's a student who doesn't sound like any other.
Harold Katz has his notebook and computer out, an iPhone in his pocket and an Apple Watch on his wrist. He's a World War II veteran with two degrees, who's lived through many of the American presidencies covered in his political science class. He's also 94.
We recently caught up with Katz to talk about his routine as a student, how he ended up at Long Beach State and what keeps him going. Listen to the audio for the full interview.
https://www.scpr.org/news/2019/05/16/89522/94-year-old-csulb-student-is-enjoying-life-on-camp/
Please note this is an audio interview. KPCC does not provide a written transcript.
Two CLA Students Win 1st Place in the 33rd Annual California State University Student Research Competition
California State University, Fullerton (CSUF) played host to the 33rd Annual California State University Student Research Competition on Friday, April 26th and Saturday, the 27th, 2019. This system-wide competition showcased the innovative research and creative activities of CSU undergraduate and graduate students in the full range of academic programs offered by the CSU. Student participants made oral presentations before juries of professional experts from major corporations, foundations, public agencies, colleges and universities of California.
The competition is held annually to promote excellence in undergraduate and graduate scholarly research and creative activity. It recognizes outstanding student accomplishments from throughout the twenty-three campuses of the California State University.
Session 1 – Behavioral and Social Sciences, Undergraduate
Yohanna Brown, CSU Long Beach 1st 
The Role of Glucagon Like Peptide 1 Receptors on the Rewarding
Effects of Oxycodone in Male and Female Adolescent Rats
Session 9 – Humanities and Letters, Graduate
Avery Amerson, CSU Long Beach 1st 
Wittgenstein, Extended Cognition, and the Problem of Other Minds
Both Yohanna and Avery also placed 1st in the CSULB competition.  Please join us in congratulating Yohanna and Avery on their awards.