Comparative Migrations: Inhibiting Pre-Occupied Spaces: Remapping Italy's Transnational Migrations in the Mediterranean and the Americas
The George L. Graziadio Center for Italian Studies at CSULB is please to sponsor "Comparative Migrations," a lecture series promoting interdisciplinary dialogue about the cultural, social, and political impact of transnational migration beyond U.S. borders. This is the first part of a two-semester series that will continue in Spring 2018.
Spring 2018
"Inhibiting Pre-Occupied Spaces: Remapping Italy's Transnational Migrations in the Mediterranean and the Americas"
A guest lecture by Dr. Teresa Fiore (Montclair State University).
Co-Organizers: Dr. Clorinda Donato (CSULB), Dr. Jeannette Acevedo Rivera (CSULB), and Dr. Martin Repinecz (USD)
Co-Sponsors: The George L. Graziadio Center for Italian Studies and the University of San Diego
Information: For more information please contact Manuel Romero, Assistant to the George L. Graziadio Chair of Italian Studies at: Manuel.Romero@csulb.edu or 562.985.1396.
From Page to Stage and Back: Colonial Exchanges between Art Forms: A Lecture by Dr. Arnab Banerji
The Yadunandan Center for India Studies Presents:
"From Page to Stage and Back: Colonial Exchanges between Art Forms"
A Lecture by Dr. Arnab Banerji
Dr. Banerji will be discussing Indian theatre in Colonial Bengal.
Arnab Banerji is an Assistant Professor of Theatre History at Loyola Marymount University.  His specialization is Indian Theatre History, and contemporary Indian performance. Arnab's research has been published in the Asian Theatre Journal, the Southeast Review of Asian Studies, and the Theatre Journal.
Revenge of the beaux-esprits: attacking Rousseau's gender politics in the eighteenth-century periodical press
The French and Francophone Studies program and The French Club
invite you to:
Revenge of the beaux-esprits: attacking
Rousseau's gender politics in the eighteenth-century
periodical press
APRIL 25, 2017 @ 4 PM IN LA2-203
BY WHITNEY MANNIES
PhD Candidate in Political Theory at the
University of California, Riverside
IN ENGLISH
This event is generously sponsored by ASI
"Emancipation and Empire: Africa and the Project of Black Studies"
"Emancipation and Empire: Africa and the Project of Black Studies"
Dr. Siba N'Zatioula Grovogui
Professor of International Relations Theory and Law
Cornell University
Sponsored by the African Studies Sub-Committee of the International Education Committee
Supported by the Scholarly Intersections Program, College of Liberal Arts
THE 15TH ANNUAL SOLANKI LECTURE: "The Difficulty of Being Equal: Ambedkar and His Struggle with India"
THE YADUNANDAN CENTER FOR INDIA STUDIES PRESENTS
THE 15TH ANNUAL SOLANKI LECTURE:
"The Difficulty of Being Equal: Ambedkar and His Struggle with India"
Ananya Vajpeyi
Distinguished Guest Speaker
April 25, 2017
at The Pointe at the Walter Pyramid, CSULB
Reception/Dinner at 6:00 pm
Lecture begins at 7:00 pm
RSVP and Inquiries to: indiastudies@csulb.edu
Ananya Vajpeyi is an Associate Professor and Fellow with the Centre for Developing Societies in New Delhi as well as a current Fellow with the Carnegie Council on Ethics in International Affairs. Her book Righteous Republic: The Political Foundations of Modern India was named book of the year in 2012 by the Guardian and the New Republic. It received the 41st Wilson Memorial Prize from Harvard University Press, the Tata First Book Award for Non-Fiction (2013), and the Crossword Award for Non-Fiction (2013). Dr. Vajpeyi writes regularly for The Hindu newspaper and contributes to Foreign Affairs, World Policy Journal, The New York Times, and the Los Angeles Review of Books. She is currently working on a biography of Dr. B.R. Ambedkar (1891-1956).
CLA Graduation 2016
A glimpse of graduation . . .
Congratulations Graduates!
CLA Alumna wins 2015 Peabody Award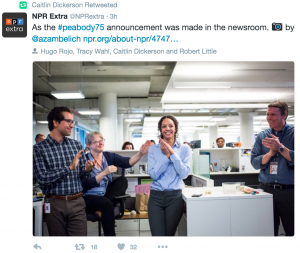 International Studies Alumna, Caitlin Dickerson (2011) has won the 2015 Peabody Award for NPR's Investigation of Secret Mustard Gas Testing.
To read NPR's Press Release, please click here: http://www.npr.org/about-npr/474765803/peabody-award-2016-winner
Peoples Picked By Peers
Article appeared on Inside CSULB April 4, 2016
Tanisha Peoples, Director of the College of Liberal Arts' advising center, was recognized recently by her peers as employee of the month.
The CSULB graduate with a master's degree in student development in higher education from 2001 was shocked and excited to be recognized with the honor.
"The College of Liberal Arts' advising center coordinates with the college's departments to advise more than 9,000 students," Peoples explained. "The students work with a team of advisors to make sure they are retained and eventually graduate. It is important to the center that students know they have a place for all their questions."
CSULB President Jane Close Conoley praised Peoples for her professionalism, positive attitude and ability to build strong relationships with faculty staff and students. "Tanisha has excellent people skills and always goes the extra mile to assist others," she said.
One reason Peoples believes she was recognized was her interaction with the College of
Liberal Arts students, faculty and staff. "I try to be a friendly person," she said. "You'll usually find me smiling. I work hard to connect with people no matter who they are and to be there for anyone who needs me. To do that, I partner with faculty, staff and students. I am a team player and I work with an excellent team."
A director of the CLA advising center needs a special skill set to do her job including the ability to listen.
"I need to know plenty of information about our students such as the general education requirements for their majors," she explained. "I need to know what resources are available for students and to provide guidance to those who are struggling or are trying to find their way at CSULB. My job is to guide students, not to judge them."
She points with pride to the advising center's use of the ATLAS Network (Advising Teaching Liberal Arts Students), a collaboration of professional advisors and faculty committed to the satisfaction and success of liberal arts majors at CSULB.
"Our trained advisors are not only qualified to assist students with their overall degree and general education requirements, they are also experts at guiding students in the exploration of academic options, reviewing academic requirements, and troubleshooting student issues and concerns," she said. "We're here to help students on their road to graduation."
The average day brings plenty of challenges to the advising center including the knowledge that things do not usually go as planned.
"People are always coming to us with questions," she said. "The center needs to be ready for whatever waits for them. That may mean interacting with students, faculty or staff. There are plenty of meetings and plenty of work on a variety of projects. I like that every day is different."
Despite the nonstop pressure, Peoples enjoys working in the Advising Center. "It is a friendly, upbeat place to work," she said. "Yes, it's true we are busy and there is plenty of stress that goes with that. But we also have fun. It is important to feel good at work, I feel, and I work hard to make that happen. I want to make a difference at CSULB. My main goal as director is to provide good customer service to our students. There is a family atmosphere in this college which I really enjoy. Our college embraces a team spirit. Partnership is our goal. Our college works as a team to make student success happen."
When she isn't at work, Peoples enjoys spending time with her family and going to jazz festivals with the occasional trip to Las Vegas.
As far as goals are concerned, she is always exploring possibilities. "What is the next step?" she asked. "I am always interested in refining and enhancing my leadership skills. I work hard to be a student advocate."
Peoples received several gifts along with her recognition including a CSULB sweatshirt, a gift certificate for See's Candy, a $25 gift card for the Cheesecake Factory and two certificates for Tommy's Original World Famous Hamburgers.
–Richard Manly
CLA Announces 2016 Outstanding Baccalaureate Student Award Winners
Congratulations! We have the winners of the 2016 CLA Outstanding Baccalaureate Award (also known as the Alumni Associations' CSULB Outstanding Graduate Award). They are:
Ashly Romero
Anthropology (Major)
Biology and Forensic Studies (Minor)
(Ceremony 2)

Alberto Daniel Diaz
Religious Studies (Major)
Linguistics (Minor)
(Ceremony 3)
On behalf of Dean Wallace, a special thank you to our departments submitting their student nominations. As award winners, Ashly and Alberto will be honored at the upcoming Alumni Associations' Award Banquet and will select their MVP (Most Valuable Professor). Each will receive a medallion from the College and a congratulatory letter from the Dean. Their names will appear in the CLA 2016 CSULB Commencement Program Book and names announced at the upcoming Commencement Ceremony.
We are honored and proud of our students for their outstanding academic achievements and contributions to the academic community at CSULB. So please join us in congratulating these outstanding students.
We also commend and thank the CLA Awards Committee for their difficult task and hard-work with the final selections.
Distinguished Speaker Series: Alumni Sandy Bauer
The College of Liberal Arts Distinguished Speaker of 2015, Sandy Bauer, spoke to a group of eager students preparing for graduation on Tuesday May 5th. The event, which was hosted by Dr. Kevin Johnson of the Communication Studies Department, highlighted Bauer's impressive accomplishments, as well as her unique career trajectory. "The Communication Studies Department created the yearly Distinguished Speaker series as a solution to no longer having commencement speakers for graduating seniors. We invite a distinguished alumni to speak for an evening and offer students advice on how they achieved their career success," said Dr. Johnson. Bauer shared with students her relatable life lessons and her no-nonsense way to achieving one's career goals in a highly-competitive industry. Bauer's work history began at none other than the so-called happiest place on earth, Disneyland Park. After returning to CSULB, she made the huge leap to her current occupation as Director of Human Resources at D.D. Dunlap and Owner of Red Table Restaurant.
Bauer's road map to her current career success wasn't a straight shot though. After a few bumps in the road, Bauer found herself single for the first time in her life with two young children to support. "What inspired me to want to better myself through education? Fear. I wanted to provide my children with a comfortable life, and so I had to make the decision to go back to school and better myself." Bauer enrolled at CSULB as a returning college student with a GPA of 1.5, but after a few years of hard work she was able to graduate from her Master's program with an impressive 3.8 GPA. Armed with the skills and knowledge gained through her learning experiences at CSULB, Bauer was able to land the first of several jobs that paved the way to achieving a fulfilling career. Dr. Timothy Plax of the Communication Studies Department taught Bauer during her Master's program and had this to say, "I know Sandy Bauer as a student and a friend, and she has a diversity of experiences to share with you tonight. She represents the finest of our graduate students that we have facilitated through our program".
After graduating from our Department, Bauer held several communication related fields, serving as a Technical Writer for the Software Company Wynne Systems, Director of Meetings and Conventions for the Hilton Hotel of Long Beach, Social Events Manager of the Four Seasons Hotel in Newport Beach, and Director of Sales Training at the Hilton Hotel in the San Diego Sales Complex. All of Bauer's career leaps have the same thing in common: knowing when it's time to go so that you can grow, knowing your worth and what you can bring to the table, and knowing that you sometimes need to take a risk and push yourself to the next level.
Bauer stressed her next hot tip: "Find a mentor! It's amazingly important to have someone whom you can ask questions. Trust me, people find it flattering when you ask them for advice." Bauer credits her speech communication skills of argumentation and debate in helping to sell herself back into a job after being laid off. "The Vice President of sales for Hilton Corporation said, 'I'm so sorry to have to lay you off.' But after a 30 minute conversation with him I changed his mind. How? I knew how to negotiate and I knew how to form a logical argument. Most people don't know how to say, 'This is what you need and here I am'. I learned this valuable skill at CSULB," said Bauer. She also made it clear that keeping positive business relationships with past employers is crucial, and that the connections could lead to more amazing opportunities in the future.
The event rounded-off with Bauer taking personal questions from students who were looking for advice on whether they should acquire an advanced degree (Bauer said, "Yes, go for it!), what to do when you feel stagnate in your career ("Move on to move up," said Bauer.) and what she looks for when interviewing people: "First impressions are everything. The number one thing I look for is a strong handshake and good eye contact. Next, is knowing something about the company that you're interviewing for. Lastly, don't be so desperate, no matter how much you need the job. In my professional experience, you don't really want every job you apply for and it's best to have your heart in it."
Bauer closed with what she believes to be the most invaluable trait a young professional should possess, she said, "Be honest with yourself first. Be in a situation that you enjoy and don't compromise yourself or your integrity. Ask yourself in everything you do, 'Did I do the right thing?'"