Prof. Xiaowen Wu leads CSULB Students on Taiwan Study Abroad Trip Summer 2023
This summer, Prof. Xiaowen Wu led a group of students to Taiwan for a short-term study abroad program. From June 27th through July 26th, these students attended Ming Chuan University in Taipei where they got to experience Chinese culture through field trips and local attractions. Stay tuned for details about joining the program for Summer 2024! Applications for this trip are coordinated through CSULB's Center for International Education and are due during the Spring semester.
Course Description:
In cooperation with the Center for International Education, the Department of Asian and Asian American Studies at California State University, Long Beach, will offer a short-term study abroad program in Taiwan. The objectives of the Summer Study Abroad Program in Taiwan are: (1) to provide CSULB students with affordable opportunities for international education; and (2) to enable participants to substantially improve their Chinese proficiency by being immersed in the Chinese language and culture for four weeks from June 27th through July 26th at Ming Chuan University in Taipei. Students will enroll in Chinese 390 Special Topics in Chinese Language and Culture and earn 3 units from California State University, Long Beach. In addition, students will also transfer 3 additional units back from Ming Chuan in Chinese Studies (Chinese 490) or Asian Studies (Asian Studies 290).
This unique program will provide an opportunity for CSULB students to experience Chinese culture through field trips and local attractions. Language courses in Mandarin will emphasize the subjects of daily life to train students to develop their basic abilities in listening, speaking, reading and writing.  By interacting and practicing in the classroom, with local and international students, and participating in various cultural activities and tours, students will have the opportunity to apply in-class lessons to real-life situations within the community. Cultural components of the program include National Palace Museum, Beijing Opera, Confucius Temple, Yeliu Geopark, Taipei 101, Chinese calligraphy, Chinese paper-cutting, Pineapple cake DIY, Danshui Township, Tea Museum and Shiling Night Market, etc…
2023 CSULB Students Receive the Global Seal of Biliteracy in Japanese Language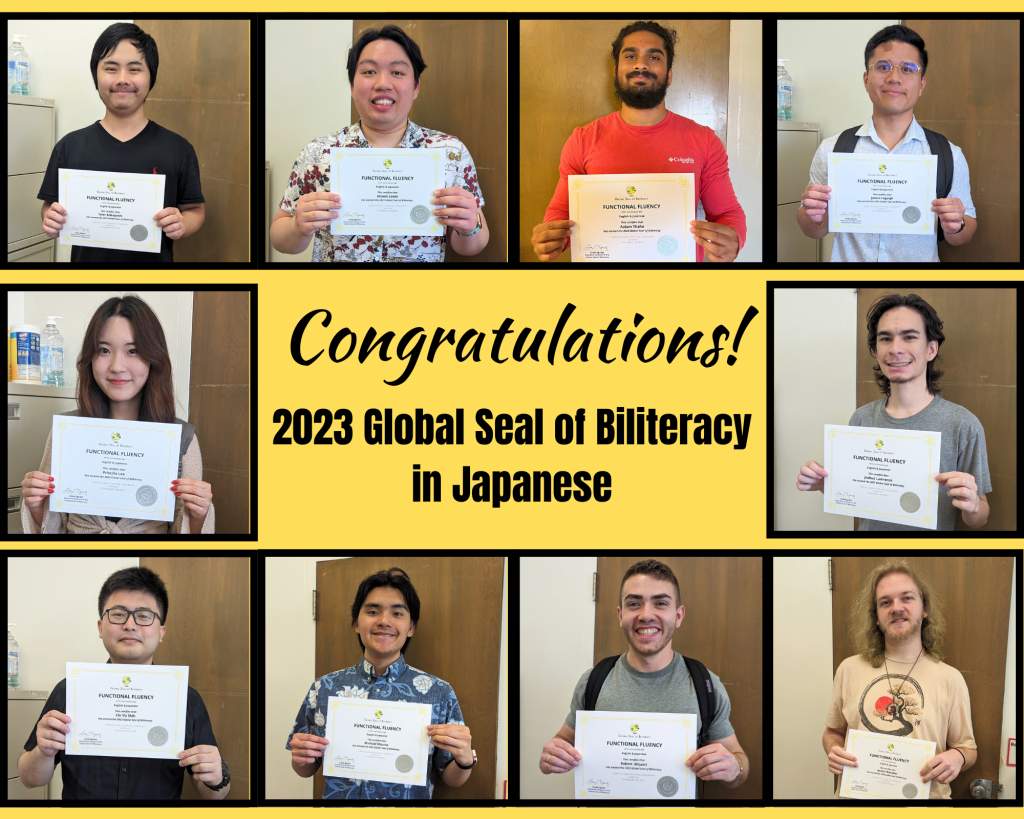 For the second year in a row, CSULB students studying Japanese received the opportunity to become certified with the Global Seal of Biliteracy. This year 13 students were the recipients of the Global Seal of Biliteracy.
The Global Seal of Biliteracy is awarded to those who demonstrate bilingual and biliteracy proficiency via testing. The Global Seal of Biliteracy enables recipients to showcase their language skills to any school or employer across state lines and national borders, with a unique serial-numbered document. These students demonstrated that their Japanese language proficiency surpassed the program goals with this credential.
Congratulations to our students on their well-earned accomplishments! 
Princeton Amarikwa (not pictured)
Andre Chevalier
Joshua Lawrence
Priscilla Lee
James Legaspi
Shawn Lewis
Kana Luzmoor (not pictured)
Tyler Kobayashi
Michael Mizuno
Hoaian Ngo (not pictured)
Chi Yu Shih
Aalam Thaha
Robert Ulibarri
Welcome to Dr. Ann Thuy-Ling Tran!
The Department of Asian & Asian American Studies are beyond excited to welcome Dr. Ann Thuy-Ling Tran! Starting Fall 2023, Dr. Tran will be joining the department as the new Assistant Professor in Asian American Studies.
When discussing her research interests, Dr. Tran states, "My research is dedicated to refugee lives and their stories. At the intersection of critical refugee studies, critical race theory, food studies, cultural studies, Viet Nam studies, religious studies and sociocultural linguistics, I study refugee narratives found in unexpected archives that haunt the most everyday pop/cultural spaces –accented languages, food vlogs, and shopping centers– especially as they are captured and engaged with in the global, diasporic, digital realm. More specifically, I am interested in oral history and autoethnographic methodologies and how subsequent generations of refugees translate their familial histories of trauma through these refugee cultural archives as a form of intergenerational healing."
Dr. Tran's Office is located just down the hall from the AAAS Department Office in FO3-304. If you see Dr. Tran on campus, feel free to say hi!
Feel free to watch the video below with Dr. Tran's introduction:
AAAS Department at CLA Convocation (Left) & Dr. Barbara Kim introducing Dr. Ann Thuy-Ling Tran at CLA Convocation (Right)
AAAS @ Commencement 2023!
Congratulations to all students that walked at Commencement! The AAAS Department wishes you best of luck on all your future endeavors. Enjoy a couple photos of AAAS students on graduation day!
AAAS Students @ Commencement
Department Chair, Dr. Barbara Kim, and CLA Faculty
Statement and Resources in Response to the Tragedy in Monterey Park
This past weekend, many Asian Americans and those in the Asian diaspora welcomed the Lunar New Year, one of the most joyous and important holidays for families and communities. We are heartbroken at yet another traumatic gun violence in the U.S. that took, injured, and traumatized precious lives. We are devastated that it happened in Monterey Park, which had just hosted the first day of a two-day Lunar New Year festival. While many know Monterey Park as the first city in the continental U.S. with an Asian-majority population, it is also a home and place of both belonging and resistance to a multiracial, multiethnic, and multigenerational community.   
Counseling and Psychological Services (CAPS) and Faculty & Staff Assistance Program (FSAP) are offering support spaces for students and employees this week.     
CAPS
is offering support spaces for AAPI students via zoom and in person:
ZOOM: 

 Tuesday 1/24/23 12:00 -1:00 pm 

In Person:

 Tuesday 1/24/23 from 3:00-4:00 pm OMA conference room. 

 
FSAP 
invites employees to gather and exchange support on Zoom:
We have linked a list of resources for Monterey Park victims and community members from the AAPI Equity Alliance. We also uplift local organizing groups that engage in critical preventive work of combating systemic violence, cultivating collective care, and creating safe conditions for all our communities such as Chinatown Community for Equitable Development in Los Angeles, Khmer Girls in Action in Long Beach, and the Filipino Migrant Center in Long Beach.   
Our thoughts are with families and communities who have experienced loss and trauma and all, including local community-based organizations highlighted in the resources, working towards healing and justice to end such horrific acts of violence.  
In solidarity,   
Asian Pacific Islander Network Faculty and Staff Association  
CSULB AANAPISI Project Resilience  
CSULB ASCEND: AANAPI Student Success Center & Development
Department of Asian and Asian American Studies  
East Asia Subcommittee of International Education Committee 
Congratulations to the Recipients of the Global Seal of Biliteracy!
These six students, Japanese majors, are certified for Global Seal of Biliteracy. They are the first recipients of this credential in our department's history. The Global Seal of Biliteracy is awarded to those who demonstrate bilingual and biliteracy proficiency via testing. The Global Seal of Biliteracy enables recipients to showcase their language skills to any school or employer across state lines and national borders, with a unique serial-numbered document. These students took a proficiency test when they exited our program and demonstrated that their Japanese language proficiency surpassed the program goals by this credential. Congratulations to our students on their well-earned accomplishments! 
Edward Inada
Bunheng Kaing
Bianca Salazar
Christopher Sheu
Shelby Smith
Vivian Takla
"DR. SOPHEA SENG AWARDED EARLY CAREER RESEARCH FELLOWSHIP"
Congratulations to Dr. Sophea Seng for being awarded the Early Career Research Fellowship from the American Council of Learned Society. Dr. Seng was recently featured on the CLA website. Original article can be found here.
"Dr. Sophea Seng was awarded an Early Career Research Fellowship from the American Council of Learned Society for her project, Tolerable Others: Buddhism and the Cambodian Diaspora in Italy. She was nominated by the Robert H.N. Ho Family Foundation Program in Buddhist Studies and will be on leave August 2022 – May 2023 to work on her manuscript. 
Additionally, Sophea was awarded a South, Southeast, and Global Asias Seminar Grant from the Association for Asian Studies, funded by the National Endowment for the Humanities (NEH), and part of the 2022-2023 Striving for Diversity, Equity, and Inclusion in Asian Studies: Humanities Grants for Asian Studies Scholars Competition Award."
"CSULB'S ROOTS IN THE LONG BEACH CAMBODIAN COMMUNITY RUN DEEP"
Originally Published on June 6, 2022 by Richard Chang
CLICK HERE to view the original article.
Sophea Seng and her students are taking their studies to the streets. 
The assistant professor in Asian and Asian American Studies teaches the Cambodian American Experience. In April, most of her class volunteered with the annual Cambodian New Year's parade in Cambodia Town, a specially designated district of Long Beach with a high Cambodian population. Two of the students dressed in traditional attire and participated in the parade. 
"It was good to be able to meet people in the community who were putting the parade together," said Seng, who began teaching full-time at CSULB in fall 2021 and is the second tenure-track Cambodian professor in the Beach's history. She obtained a master's degree from CSULB in Asian American Studies a decade ago, studying with anthropology professor Karen Quintiliani, considered by Seng and others to be one of the foremost scholars over the past 30 years on Cambodians in Long Beach. 
"Volunteering for the parade really makes them think about the narrative and gives them a ground-up perspective," said Seng (pictured above). "They learn about what makes this parade happen." 
Long Beach is home to the largest Cambodian community outside of Southeast Asia. The 2010 U.S. Census Bureau estimated about 18,000 Cambodians living in Long Beach, while more recent estimates put the number between 19,440 and 20,000, or about 4% of Long Beach's total population of 486,000.
Over the years, faculty, staff and students have been building bridges between The Beach and Long Beach's Cambodian community, between students and their parents, all the while promoting healing and advancement for a group that has survived one of the most brutal and deadly regimes of the 20th century. 
Cambodians have been living in Long Beach and attending Cal State Long Beach since the 1950s, according to "Cambodians in Long Beach" (Arcadia Publishing) by Quintiliani and Susan Needham. The earliest students at CSULB were affluent, on a foreign exchange program and were the children of government officials and diplomats, according to The Washington Post.
More recently, over 579 Cambodians were enrolled at The Beach in spring 2022, according to university records. That represents about 7.8% of the AAPI student population.
Professor Leakhena Nou, who joined the CSULB faculty in fall 2005, has done extensive research and outreach with the survivors of the Khmer Rouge genocide, in which nearly 2 million people were killed between 1975 and 1979. Her organization, the Applied Social Research Institute of Cambodia (ASRIC), has collected testimonies from hundreds of survivors living in the United States, including dozens from Long Beach. 
Those testimonies were submitted and used in a major war crimes tribunal in Phnom Penh, leading to the convictions of two key leaders from the Khmer Rouge regime. Nou's efforts are depicted in the 2016 documentary "Daze of Justice," directed by Michael Siv, and are included in the U.S. Holocaust Memorial Museum. 
"For me, as a Cambodian scholar, I can't just publish the findings and let it sit on the bookshelf and collect dust," said Nou, who also serves as co-advisor for the CSULB Cambodian Student Society, founded in 1984. "I had to do something. I couldn't just let the data get lost in the academy. I had to speak on behalf of my community."
Nou, a full professor in sociology, is the first Cambodian professor to obtain tenure on campus. Other Cambodian faculty at CSULB include Seng; Darith Ung, a lecturer who teaches the Khmer language; and Phatana Ith, a lecturer in Communication Studies.
Nou continues to work with survivors of the genocide in Long Beach and other communities. 
"It's not just about finding justice for the Cambodian people," she said. "It's about helping them to find their voice, their inner power, that they feel has been stolen or taken away from them. Their power is still within them." 
Journey to Success
Between 2011 and 2019, the Journey to Success (JTS) project brought hundreds of Cambodian American middle and high school students to campus, as well as parents and community members. They attended college fairs, met with faculty, staff, students and alumni, and got tours of the campus. The youths also watched a CSULB Homecoming basketball games.
During that period, workshops on college awareness and financial aid were also held in the Long Beach community, including sessions at the United Cambodian Community center, Khmer Girls in Action and the Khmer Arts Academy. Planning committee dinners were held annually at Long Beach Asian restaurants with President Jane Close Conoley in attendance, along with members of CSULB's Asian American Pacific Islander Initiative Committee.
"That was a good way to introduce students to Cal State Long Beach," said Ung, who has also taught the Khmer language at Wilson High School in Long Beach since 1997. 
"When that program was enforced, I always had 20-plus of my students attending the event. Not all of them attended CSULB, but they got exposed to the university way of life. It benefited them, absolutely. I had several students every year that graduated from Wilson and attended CSULB. Many of them went through that program." 
Ung also cited the Long Beach College Promise as a vital program that has helped Cambodian youth get through high school, take a tuition-free year at Long Beach City College and eventually attend CSULB. 
A New Chapter
Charlene Chhom, a fifth year in Asian and Asian American Studies, was born and raised in Long Beach. She lived in Cambodia Town until her senior year at Long Beach Polytechnic High School. 
In spring 2022, Chhom took the Cambodian American Experience class with Professor Seng and participated in the New Year's parade in April. 
"I really liked the class," said Chhom, who can speak Khmer but can't read or write the Sanskrit-influenced language. "Especially because Long Beach is such an important place for Cambodians."
During her time at the Beach, Chhom has been involved with the Cambodian Student Society, and even raised funds for an expedition to Cambodia in 2019, just before the pandemic. The society bought school supplies and distributed them to Cambodian students. 
"It was definitely an eye-opener," she said. "They can tell if you are an American."
For many on campus, having Professor Seng teach the Cambodian American Experience fulfills a decades-long goal. 
"We wanted to be really authentic and bring in Cambodians to speak their stories, and students to go out into the community," said Quintiliani, who has taught the course in the past. "I'm so thrilled to have Sophea teaching it. That was the dream."
Through classes such as the Cambodian American Experience and Khmer language, groups such as the Cambodian Student Society, and outreach efforts like the New Year's parade, CSULB's Cambodian students are learning to venture past the legacies of the Khmer Rouge, genocide and the travails of being a refugee. 
"There are lessons learned with the new generation – they can imagine themselves to be proud of their heritage," Nou said. "We want to inspire and motivate the young Cambodians, not only to be proud of their heritage, but to reclaim their identity and voice, become scholars, learn and grow as a mechanism to thrive." 
"HOW CSULB'S NEW INITIATIVE AIMS TO SUPPORT AAPI STUDENTS"
Originally Published on April 4, 2022 by Richard Chang
CLICK HERE to view the original article.
Even though she was a toddler at the time, Kannica Lor remembers the scene vividly: She was playing with her brother at a local park, and her Cambodian grandmother, who didn't speak English, suddenly became the target of a white woman who was screaming at her to "speak English!" That memory sticks with her to this day. 
Nowadays, Lor, a third-year Asian American Studies major at Cal State Long Beach, worries about her parents.  
"My worries are for them when they go out shopping," said Lor, a Cambodian American who grew up in Long Beach. "I would not want them to go out on their own because I know there was a lot of hate and hateful action taken toward elders in our community."
Since the beginning of the coronavirus pandemic, anti-Asian hate speech and violence have continued to rise. According to the Center for the Study of Hate and Extremism, anti-Asian hate crimes increased by 339% last year, compared to the year before. From the city streets to the highest office in the country, Asians have been blamed for starting the pandemic and have been attacked for supposedly spreading the virus.
There are also socioeconomic and mental health issues that young Asian Americans have encountered, without a lot of resources or places to turn. 
Project Resilience, a new program kicking off this spring at CSULB, aims to address wellness and mental health issues among Asian American and Pacific Islander (AAPI) students, as well as provide academic, financial and career support. The four-part program also plans to provide peer mentors for students and workshops for faculty at The Beach, specifically addressing AAPI issues. 
Asian Americans and Pacific Islanders comprise about 20.8% of the Cal State Long Beach student body, according to campus data from spring 2022. The Beach has been recognized nationally as an Asian American and Native American Pacific Islander-Serving Institution (AANAPISI), one of 14 in the CSU system. That designation allows CSULB to compete for federal and private grants aimed at bolstering efforts to assist underserved communities and students. 
Dr. Barbara Kim, professor and chair of the Asian and Asian American Studies Department, and Associate Professor Varisa Patraporn of the Department of Sociology, are spearheading the project. The initiative was made possible by a five-year, $1.46 million AANAPISI grant provided by the U.S. Department of Education, and builds upon efforts that had been underway for several years on campus.  
AAPI "students were definitely affected by the pandemic," Patraporn said. "It was challenging to take classes (online). It feels like their social skills are deteriorating. They haven't had a chance to open up and talk about how they feel. They've become more insular as a result of the pandemic and being in quarantine.  
 

Students have been having so much stress from family members being sick, family members dying. Also, with all the anti-Asian speech and incidents, it has been very difficult.

 
Jenna Nguyen, a third-year electronic engineering student, said she believes Asians have become targets over the past few years, and she worries about anti-Asian hate hitting close to home. 
"I constantly fear for the well-being of my parents," Nguyen said. "My parents are in their 50s and 60s and live by themselves. My mother works as a nail salon technician and often closes the nail salon by herself late at night. I constantly fear the moments that my parents go to grocery stores, take a walk, and close the nail salon because I live so far away and I am not there to protect them." 
Nguyen said she has also experienced name calling and fetishization at various times during her 21 years. 
"I think (Project Resilience) would be very helpful for Asian American CSULB students because the conversation on mental health is especially important," Lor said. "AAPI people are seen and impacted by the 'model minority' stereotype in more ways than just being seen as the 'ideal' minority, but also putting that pressure on young people to be perfect. When they aren't, that really messes with their psyche and makes it difficult for them to continue to function or try to function well, even if they slip up and fall a little.  
"I also think having upper-division students helping out younger AAPI and give guidance would be very helpful, especially for those who are first-generation college students or otherwise." 
As part of the scholarship/internship program, Professor May Lin of the Asian American Studies Department is working on an internship class to place 15 students in local AAPI organizations. The students will complete 90 hours during the fall semester and engage in career readiness services as well. 
Project Resilience is part of a campus-wide effort driven by AAPI faculty and staff for many years. It is the result of work initiated by Simon Kim, associate vice president for research and economic development; Mary Ann Takemoto, former AVP of Student Affairs who retired in 2021; and Karen Nakai, former chief of staff to President Jane Close Conoley who left CSULB to become chief of staff to the CSU chancellor in 2019. 
"This is a continuation, rather than something new and different," Simon Kim said. "But given what's going on in society, now our focus is on mental health. Academic issues are important to address, but there are social, psychological issues that need to be addressed as well – not just for AAPI students, but for all under-represented students." 
AAAS Spring Scholarships Open! APPLY TODAY
All AAAS department scholarships are OPEN for applications through the BeachScholarships website. Each year, deserving AAAS students are not eligible for scholarships because they did not apply to BeachScholarships — so make sure you do, by March 13th!
Apply for the following AAAS Department scholarships:
Follow these steps to Apply:
First, Access the BeachScholarships app through Single-Sign On
Complete all the questions on the General Application. It is important to be as thorough as possible.
Once you have completed your general application you will be able to search for individuals scholarships.
You are all set! You can now start applying.
*Please keep in mind, the following scholarships are listed under the name Asian and Asian American Studies (AAAS) Department Scholarships: Best Paper in Asian Studies, Best Paper in Asian American Studies, Lloyd T. Inui Prize, Taiwan Essay Contest.
The deadline to submit all scholarship applications is March 13, 2022.
If you have any questions about applying for these scholarships feel free to contact the Financial Aid and Scholarships Office by opening a ticket or calling (562) 985-5471, option #4.