MSGISci Grad Anshu Pallav Is Designing Solutions for Climate Change
When Climathon
, a 24-hour global climate change challenge, came to Long Beach in October 2017, CSULB grad Anshu Pallav was more than ready to contribute. The annual event invites innovators in major cities worldwide to help humanity achieve zero fossil fuel emissions in the next 30 years. Having just earned his Master of Science in Geographic Information Science (MSGISci) degree, Pallav presented his idea for a local solution that stemmed directly from his experience in the program. For more information about Anshu's contribution to this event, please see the CPIE News web site.
Interested in Majoring in Geography? Aziz Fellague Ariouat tells us why he became a Geography major in this featured video.
Geography at CSULB 01.1 from DS on Vimeo.
Geography Grad Lands Position at Bay Area Precision Ag Firm
CSULB Geography is proud to announce that another one of our graduates is putting their degree to work.  Last week, news arrived that recent graduate Duncan MacIntosh accepted a position as GIS/Remote Sensing Analyst with Ceres Imaging in Oakland, California. MacIntosh, who recently relocated to the West Coast from his home state of Rhode Island, received his MA in Geography in July 2019 and promptly began his search for a career in the field of his specialty, that being Remote Sensing and Geospatial Techniques.  In recent email correspondence, Duncan admitted that his decision to accept the position at Ceres came only after a good bit of consideration, but it is now evident that he is quite satisfied with his decision.  "One of the things that the company liked about my resume was all the drone work" said MacIntosh, who further indicated that the firm is looking into using drone-mounted sensors to generate custom aerial imagery for precision agricultural applications.  Once settled into his position, he expects that his day-to-day duties will include performing quality assessments and multispectral analysis using aerial imagery of agricultural land across the U.S. West Coast and Mid-West, as well as Australia.  The results of these analyses will form the basis of recommendations that will be provided to growers to assess crop stress, pest activity, overall plant health, and irrigation application.
CSULB Geography's River Ridge Ranch Project Featured in Drone Blog
Current research being conducted by CSULB's Geography and Environmental Science and Policy departments took center stage in the current issue of Waypoint, a web log created and managed by leading fixed-wing drone manufacturer senseFly.  In this issue, Waypoint interviewed our GIS Lab Manager and drone pilot Scott Winslow who provided an overview of how our students and faculty are leveraging low-altitude remote sensing to benefit ecological research at River Ridge Ranch in the western Sierra Nevada foothills.  To learn more about how our department is taking to the sky to generate high-resolution imagery products for use in
photogrammetry and automated feature extraction, take a look at senseFly's blog post titled How Fixed-Wing UAVs Improved GIS Mapping at CSU.
Student Spotlight: Aziz Fellague Ariouat
This week, our student spotlight is cast on another Geography major, Aziz Fellague Ariouat.  He was recently interviewed by Communications student Alexander Yem, and here is what Aziz had to say about his experiences as as a Geography major.
Alexander: What made you choose a Geography major?
Aziz: Initially, I was an International Studies it was interesting, but I didn't know what I wanted to do with my degree. What I decided to do was take a look back and see what my passion and interests when I was younger. I was fascinated with geography and all the different kinds of fields like GIS (map making) 🌎, environmental applications 🏞, and urban geography 🏙 I'm so happy with my decision to go into geography!
Alexander: What are your plans after college?
Aziz: I'm applying to graduate school! I want to get my Master's in Urban Regional Planning since I love cities. Also, I'd like to enter the transportation industry to install a better public transportation system 🚆
Alexander: Who's one of your mentors?
Aziz: I'd say Dr. Christine Jocoy, a Geography professor at CSULB, the classes I took with her inspired me in the direction I'm trying to go. I'm grateful 🙏🏽 for the knowledge she's taught me the past couple of years. Also, I've researched with her this previous summer regarding homelessness. She's such a great professor I've taken her 4 times!
Alexander: What does a Liberal Arts degree?
Aziz: I think its a terrific degree since it's interdisciplinary. It prepares you for the workforce where you are interacting with different people from different disciplines. Liberal arts allows me to see perspectives 👓 from an Economist, or a Psychologist, and more. These classes have shaped me to the person I am today.
Some more fun facts about Aziz:
"I can speak German🇩🇪! I actually lived in Germany for 7 years, which is funny because my family isn't German at all 😂 My dad got a job in Germany so we left our California home when I was 9 years old and came back to the U.S. when I was 16 years old."
#soCLA #StudentofCLA #StudentSpotlight #Geography #CSULB #liberalarts #urbanregionalplanning
---
Aziz was also featured on the College of Liberal Arts social media spotlight in April of this year:
Say hello to this week's #StudentofCLA Aziz Fellague. Aziz is a junior majoring in Geography while also pursuing a double certificate in Urban Studies and Geographic Information Science
——————————————————————————–
"Geography means a lot to me because of its interdisciplinary aspect. Geography is the perfect balance of science and social science, I get to learn how to make maps with data that I obtain and I also get to learn how people utilize public space, I chose urban geography as my concentration because I've always been interested in cities and how they function, but I also chose to add a Geographic Information Science certificate because I also like making maps and visualizing data in appealing ways.Throughout my college career I've had plenty of amazing professors in the department, and I couldn't pick one! Dr. Jocoy's Sustainable Cities class and Dr. House Peters' Environmental Sustainability & Social Justice class. Dr. Jocoy really is able to get the best out of her students and prepares us for the real world, and we've been on great field trips during her class including to a community garden and the LA River. Dr. House Peters' class introduced me to the concept of environmental justice, which is a topic that I am very passionate about. A significant moment in my college career has been my internship at Long Beach Transit. I have been the Government Relations Intern there for nearly a year and working at such a supportive work environment has confirmed that I want to be involved in the transportation industry in some capacity in the future. I graduate in Spring 2020, so what I want to do is find a job in an urban planning-related field, work for a year, and then I would like to go back to school to pursue my Master's in Urban & Regional Planning." #StudentsofCLA #Geography #UrbanStudies #GIS #CSULB #CollegeofLiberalArts
Article and Photo Credit: CSULB College of Liberal Arts
Student Spotlight: Mariah Shope
Meet our first #studentofCLA of the semester, @mshopey1 ☺️
Mariah Shope is a Geography major and her career plans are to go into Urban Development and Planning ✍🏼
"What I find fascinating is how people interact with each other and their environment and why their behavior changes as their surroundings change."
She was inspired by an awesome Geography professor in community college. 📚 With her Geography Major, Mariah wants "to build better communities and spaces that all people feel invited to participate in." 👏🏼
In her free time, she loves running with her dog 🐶 every morning and working with youth students at her church. 🙌🏼
What does CLA mean to Mariah? It means, "A study that is very comprehensive and each major makes it their own." 📖
#soCLA #gobeach #liberalarts #geography #geographymajor #csulb #lbsu #studentspotlight
Article and Photo Credit: CSULB College of Liberal Arts
Geography Fall 2019 Colloquium Updated Schedule
Since the beginning of this semester, Dr. Hyowon Ban has been busy putting together a solid list of presenters for our department's Fall, 2019 colloquium series.  As you can see, the updated schedule has something for just about everyone with interests in both human and physical geography.  All faculty and students are invited to attend these informative early evening events.  Please note that you can now easily access the colloquium schedule by way of the new link that has been created on our home page.  Just click on "Department Information," then click "Geography Colloquium Series."  We look forward to seeing you there!
MSGISci Cohort 6 Students Win Story Map Competition at 2019 SCAG Regional Conference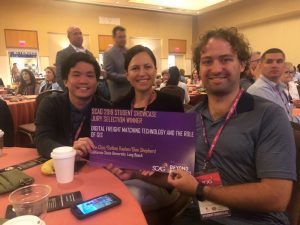 Our congratulations go out to Kyle Chin, Gülben Kaplan, and Glen Shepherd, all representing Cohort 7 of our MSGISci program, for being the jury-selected winners of the Student Showcase at the 2019 Southern California Association of Governments Regional Conference and General Assembly.  The Student Showcase session is featured each year at the annual SCAG conference and provides students with the opportunity to share their sustainability planning posters and GIS story maps with more than 1,000 elected officials, planners, and regional leaders.  Winners of the Student Showcase are selected through a competitive application process, and students whose projects are chosen are designated as SCAG Conference Fellows.  The story map submitted by Kyle, Gülben, and Glen titled "Digital Freight Matching Technology and the Role of GIS" may also be selected to enter a subsequent competition in which four cash prizes totaling $6,000 will be awarded.
CSU Long Beach Geography Department Receives AAG Honorable Mention for Masters Programs
Our own CSULB Geography Department received the 2019 Honorable Mention for MA/MS Program Excellence Award from the American Association of Geographers (AAG), runner-up to Western Michigan University. We were nominated by our Regional Division, the Association of Pacific Coast Geographers, one of nine regional divisions in the AAG. Up to two programs from each division may be nominated.  Our Geography Department received the Honorable Mention for both our MS in Geographic Information Science and MA in Geography programs.
The AAG Program Excellence Award is now entering its fifth year and recognizes geography programs granting masters-level as the highest degree. Congratulations to our faculty and students in the MA and MSGISci programs!