Pablo Chacon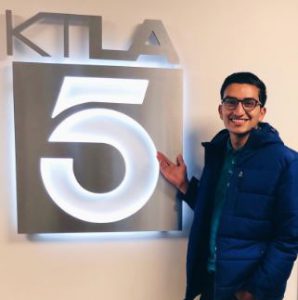 Fall of 2018
Major: Communications, Minor: Journalism
Position:
KTLA 5 Morning News Intern
1. How did you apply for this internship?
I had the amazing opportunity of interning at KTLA 5 Morning News as the morning news intern. I applied online after searching for internships on Indeed. It was through my fraternity that I was connected to someone who worked at KTLA that lead to the opportunity of getting a tour of the studio and an interview with the Assistant News Director. During my interview I discussed my experiences from the journalism classes I took at Long Beach and that ultimately helped me land the internship.
2. What were your daily tasks?
During my time as an intern, I was responsible for assisting the Supervising Senior Producer, uploading segments to our KTLA website, attend meetings, prepare for future segments, and print scripts for anchors. In addition, I was able to assist in producing KTLA's Thanksgiving Telethon for the victims of the Woolsey fire and Thousand Oaks shooting and the 130th Rose Parade Preview.
3. What skills were needed for this position? And do you think CSULB prepared you for it?
The journalism department at CSULB was essential in helping me succeed and build my skills for the journalism business. Having the ability to check out equipment from the technology center to complete my news stories was key. In addition, the journalism department does an exceptional job at hiring professors who are or have worked in the business. I was fortunate to take three classes with Professor Sanchez who is a reporter in San Diego. The curriculum she taught helped me as an intern and as an Associate Producer. Professor Sanchez knows the business and gave criticism that was helpful.
4. What was the highlight of your internship?
The highlight of my internship was being able to shadow different people in the newsroom. Interning at KTLA and making an effort to meet as many people in the newsroom helped me land a job as an associate producer.
5. How do you think this internship benefited your career?
My advice for students is to never stop networking. Join organizations on campus that will benefit you and help your career. When you land that internship, continue to network. I made it a priority to greet everyone I walked past and asked about their position when I had the chance.