Alumni
Alumni Spotlight:
Max Marmor, BA in Philosophy Class of '78
Max is President of the Samuel H. Kress Foundation. After earning his BA in Philosophy in 1978, Max went on to earn an MA in Art History at Cal State Northridge (1982) and then a MLIS degree from UCLA (1988). Originally an art librarian by profession, Max began his career in the 1980s as curator of special collections at the UCLA Art Library, where he was responsible for managing the collections and services of the west coast branch of the Princeton Index of Christian (now Medieval) Art, the premier photographic archive devoted to medieval art and iconography, and the Elmer Belt Library of Vinciana, the premier research collection devoted to Leonardo da Vinci. Max's scholarly interests lie in the field of Leonardo studies and in the bibliography and historiography of art. He is co-editor of the standard reference work, Guide to the Literature of Art History (ALA Editions, 2005) and author of numerous articles, translations and book reviews, including an article on censorship in the Nietzsche archive. Max was subsequently professionally affiliated with Avery Architectural and Fine Arts Library at Columbia University (1988–1990), the NYU Institute of Fine Arts Library (1990–1994), and served as the director of the Yale University Arts Library (1994–2001). He left Yale in 2001 to assume a position at the Andrew W. Mellon Foundation, as part of the planning team for the Artstor digital initiative. Max was appointed President of the Kress Foundation in July 2007, and is planning to begin his retirement in 2024.
---
Here's a sample of what some of our other alumni are up to:

Jean-Paul Whittall, BA in Philosophy, Class of '15

After earning the BA, Jean-Paul returned home to earn a Physics Teaching Credential from Cal State Sacramento. He began teaching physics in Davis in 2015, and completed an MA in Curriculum Development in 2022. Jean-Paul has since been teaching at Davis Senior High School, and he spends his free time perfecting cake recipes and playing Dungeons and Dragons. He is thankful for the education that he received at CSULB and frequently finds opportunities to apply his philosophy education in the physics classroom, to the benefit but occasional consternation of his students.
Raisa Lobo, BA in Philosophy Class of '14

With a major in Philosophy and a minor in Finance, Raisa graduated with department honors and also served as the SPA President. She began a career in real estate during college, and joined one of the highest producing teams in Los Angeles after graduation. From there, she went on to start her own real estate company, The Lobo Group, in Brentwood.
Celia Guzman, BA in Philosophy, Class of '14
Celia was inspired to pursue a degree in Philosophy after taking an introductory course with Prof. Larry Nolan. After her BA, Celia went on to earn her JD from the University of California Hastings College of the Law in San Francisco, where she served as the Vice President of the Associated Students of UC Hastings, President of La Raza, and as an editor of Constitutional Law Quarterly. Celia also externed for a federal judge in the Northern District of California while earning her concentration in Social Justice Lawyering. Now, Celia dedicates her pro bono practice to helping asylum seekers, while practicing labor and employment law at Mitchell, Silberberg, & Knupp LLP.
Emily Barrett, MA in Philosophy Class of '14
After receiving a BA in Philosophy from Colby College, Emily did her MA work at CSULB in philosophy of psychiatry. In her thesis, she defended the doxastic conception of delusions. After graduating, she entered the PhD program at the University of Wisconsin.
Melissa Ramirez-Noss, BA in Philosophy '11 & MA in Philosophy '14

After earning her BA in 2011, Melissa added the MA in 2014 with a focus in history of early modern philosophy and applied ethics. She organized quarterly beach cleanups through California's 'Adopt-a-Beach' program. Melissa is grateful for the education and encouragement she received at CSULB. 'I always felt welcome to share my voice and perspective. After graduating, I continued to benefit from my connections with both professors and classmates.' Currently, Melissa is a Philosophy Faculty Member and Student Learning Outcome Facilitator for the Social Sciences Department at Long Beach City College. Additionally, she serves as co-advisor to the Philosophy Club and the Tabletop Games Club. She also teaches Philosophy at El Camino College in Torrance.
Matthew Kunicki, minor in Philosophy, Class of '14

Matthew earned his BS in Biochemistry with minors in Philosophy and English. He continued into a career in translational and biopharmaceutical research, beginning at Stanford University and later with Pfizer. His coursework in philosophy of mind, science, and epistemology added depth to his understanding of natural philosophy. He thanks the many mentors, across various fields, for helping him to retain an innovative perspective with his scientific work and personal life. He reminisces on how poignant these undergraduate studies were—along with his Medical Intelligence and Innovation internship—for his work in data analytics, mass cytometry, and parenting.

Neil Richmond, MA in Philosophy Class of '13
After earning his MA in Philosophy from Cal State Long Beach, Neil went on to earn his JD from Loyola Law School in 2016. He then joined the professional services and accounting firm Ernst & Young as a Tax Senior specializing in international tax law, and lives in Los Angeles with his wife, Chantal.
Dr. Emma Björngard-Basayne, BA in Philosophy '13

Emma is an Adjunct Professor of Philosophy at the University of Connecticut and an Academic Advisor in the School of Business. As an undergraduate, she was inspired to pursue philosophy after taking classes with Profs. Nell Wieland and Larry Nolan: 'their passion was obvious not only in their teaching methods, but also in the countless hours they spent answering my questions during office hours'. In 2018, Emma received an MS in Counselor Education from Central Connecticut State University while finishing her PhD in Philosophy with a dissertation entitled An Embodiment Constraint on Theories of Affect. She thinks of her career mission as empowering students to explore who they are as individuals, challenge assumptions, and to always keep asking questions. Currently, Emma lives in New Haven with her husband and fluffy ragdoll cat Jasper.
Anthony Mendoza, BA in Philosophy & History Class of '13
After graduating Phi Beta Kappa with a double major in Philosophy & History, Anthony went on to Xiamen University and then National Taiwan University, and has since continued on to Columbia University in New York for an MA in East Asian History, and to UC Berkeley more recently.
Zien Halwani, BA in Philosophy & Economics, Class of '13
Zien is an associate at Kibler Fowler & Cave LLP. He primarily litigates commercial disputes, including in the motion picture and television industries. Before KF&C, Zien litigated employment discrimination, harassment, and retaliation cases in state and federal courts. He earned his law degree from St. John's University School of Law on a full-tuition merit scholarship, where he served as a senior member of the Moot Court Honor Society and a member of the ABI Law Review. He graduated from Cal State Long Beach with a BA in Philosophy & Economics, with an undergraduate honors thesis outlining the creed of Muslim theologian Abu Hasan Al-Ash'ari. Zien lives in Orange County with his wife and their two daughters. In his free time, he studies Arabic grammar (nahw) and hopes its study will open doors to more learning.
Kele Perkins, MA in Philosophy Class of '13

Kele works at Whittier High School, where he teaches AP Government, AP Macroeconomics, AP Psychology, and Speech & Debate (including Mock Trial, Academic Decathlon, and Model UN). He also advises the school's Philosophy Club and Chess Club. Under Kele's supervision, the Whittier Chess Club won the 2014 National Junior Chess Congress Championship in the Age-16-and-Under division. They have also won 5 consecutive league titles, and in 2016 they won the state championship for the 'Under 1400' division. In 2013, Kele earned the MA in Philosophy from CSULB, where he pursued interests in logic and epistemology, with particular interest in the issue of epistemic closure. Kele also teaches as a part-time faculty member at LBCC. He is married and has two children.
Joseph Felix Diminutto, BA in Philosophy & Geography, Class of '12
After a decade of working professionally in theater & television, Joseph transferred to CSULB to double major in Philosophy and Geography. He graduated cum laude in 2012, and went on to earn both the MA in Geography and a certificate in Geographic Information Science from CSULB in 2016. While achieving his academic goals, Joseph supported himself by working as an American gondolier; since 2005, he has rowed over 10,000 cruises throughout the Naples canals in Long Beach. Currently, Joseph is a Geography & GIS instructor at CSULB, as well as Saddleback, Fullerton, Soka, and El Camino Colleges.
Rebekah Cummings, BA in Philosophy Class of '11

Rebekah is a Research Data Management Librarian and Digital Matters Interim Director at the J. Willard Marriott Library at the University of Utah. After graduating in 2011, Rebekah earned her Master's degree in Library and Information Science at UCLA, where she worked on a NSF grant studying the data practices of scientists and received the 2013 UCLA Chancellor's Marshall Award. At UU, Rebekah trains researchers in data management and works with them to find, manage, and share their data. Additionally, she is the library liaison to the Department of Philosophy and chairs a steering committee to build a digital scholarship space on campus. Rebekah enjoys politics, and was recently elected as the President of the Utah Library Association. She currently lives in Salt Lake City with her husband, son, daughter, and Australian Shepherd.
Dr. John Clevenger, MA in Philosophy Class of '11
John earned an MA in Philosophy from Cal State Long Beach in 2011. He went on to earn his PhD in Experimental Cognitive Psychology and Neuroscience from the University of Illinois at Urbana-Champaign in 2017, where he studied the cognitive and neural processes underlying human object recognition and visual attention. John is currently a Senior Data Scientist at Netflix and StitchFix, where he helps drive product innovation through experimentation and analytics.
Daniel Magno, BA in Philosophy, Class of '10
Daniel graduated summa cum laude with a BA in Philosophy, a minor in Film and Electronics Arts, and a nearly perfect GPA. He returned to CSULB to complete a MA in Educational Technology and Media Leadership with graduate coursework in Business and Administration. Currently, Daniel works at CSULB with Academic Technology Services, where he supervises front-line support for the university's instructional technology and Learning Management System. He also provides instructional design support with an emphasis on online education.
Dr. Clinton Castro, BA in Philosophy Class of '10
After completing his PhD at the University of Wisconsin, Clinton was hired tenure-track as an Assistant Professor at Florida International University. Clinton is primarily interested the (meta)ethics of belief, epistemic permissivism, and credences. He also enjoys thinking about issues in applied ethics having to do with the moral limits of markets (particularly with respect to data markets) and corporate social responsibility.
Dr. Saad Anis, MA in Philosophy Class of '09
After finishing his MA Philosophy, Saad went on to complete a PhD in Philosophy at the University of Western Ontario in 2016, with a specialization in Philosophy of Science and a dissertation on the role of mathematics in scientific representation. Dr. Anis went on to become an Editor with the Edanz Group in Japan.
Rick Fox, MA in Philosophy '09
Rick is a licensed Architect who practices community-based, socially-mindful architecture with his wife of 29 years, also an architect. He earned an MA in Philosophy from CSULB in 2009, graduating summa cum laude, with a thesis focused on the interpretive philosophy of Michael Krausz. His interest in architectural aesthetics is to develop an interpretive taxonomy that decouples specific interpretive ideals from ontological theories about architectural works. Two of his articles have been published in the journal Architecture Philosophy. Since 2010 he has been a Professor of Design in the Masters of Interior Architecture program at Interior Designers Institute (Newport Beach, CA). His current research interests focus on the intersection of architecture, philosophy, and film.
Dr. Jonathan Dixon, BA in Philosophy Class of '08
After earning a BA in philosophy at CSULB, Jonathan went on to finish an MA in Philosophy at Virginia Tech. After teaching in Virginia and Texas, Jonathan went on to pursue the PhD at the University of Massachusetts Amherst. He completed his doctorate in SP21 under the supervision of Prof. Hilary Kornblith, and specializes in Epistemology—especially where it overlaps with the Philosophy of Science and Ethics. He has published articles in Dialectica, Ratio, and Synthese. Jonathan is currently living in North Carolina with his wife and two rambunctious children, and is a Visiting Assistant Professor at Wake Forest University.
Errol C. Dauis, BA in Philosophy Class of '07

While at CSULB, Errol interned with the Orange County Office of the Public Defender, and participated in the department's Honors Program. He graduated cum laude, and was selected as the department's Outstanding Graduate of 2007. In 2011, Errol graduated from the UC Davis School of Law, where he served as the Editor in Chief of the UC Davis Law Review, and was admitted to the State Bar of California. He is now an associate at Boutin Jones law firm, where he represents private- and public-sector employers across a broad spectrum of employment law, providing his clients with counsel and representing them in litigation. In addition to practicing law, he serves as an Adjunct Lecturer at UC Davis School of Law and on the Board of Directors of the Davis Food Co-op. Errol currently lives in Sacramento with his wife and their dog.
Chhunny Chhean, BA in Philosophy & English Class of '05

Chhunny attended Cal State Long Beach as a first-generation college student and as a President's Scholar. Philosophy was a new area of study for her, and she found a freedom in its promotion of independent thinking that she carries with her today. She also used her courses to guide her summer travels, reading Sartre in Paris and Kafka in Prague. The department was supportive of her interests and of the SPA, which she helped lead. After graduating Phi Beta Kappa and magna cum laude, Chhunny went on to earn her JD from UC Berkeley School of Law. Her legal career has taken her to places ranging from New York City to the US/Mexico border in Texas, and allowed her to provide legal assistance to both large corporations and indigent criminal defendants. Lately, she has been part of the Dallas City Attorney's Office; now Dallas's Chief of Community Prosecution, Chhunny leads a team of about 15 attorneys that work out of neighborhood offices throughout Dallas to eliminate criminal and nuisance properties through co-operative relationships with property owners and affirmative litigation.
Sara Leimbach-Hollingsworth, BA in Philosophy, Class of '05

Sara graduated cum laude in 2005 from Cal State Long Beach and earned a Masters in Educational Leadership from UCLA in 2017. She spent 13 years working in Watts (Los Angeles) as a social justice educator, and in 2007 was named a Most Inspirational Educator by United Way. Sara views the foundation in Philosophy that she acquired at CSULB to be the basis from which she addresses the social and educational inequities that she advocates to end. Currently, Sara lives in Long Beach with her husband, CJ, and her son, Cru. She now serves as the Assistant Principal for Warner Middle School in Westminster, California.
Geneva Englebrecht, BA in Philosophy Class of '05
She specializes in disability law, education law, and children's rights as an Associate Attorney at Thompson & Horton, LLP. Before pursuing her J.D. at Whittier Law School (2008), Geneva received numerous awards from CSU Long Beach, including President's List, Distinguished Student Award, and Dean's List. She was also a Senior Attorney with the California law firm of Atkinson, Anderson, Loya, Ruud & Romo.
Nathan Brodnax, BA in Philosophy Class of '04

Nathan Brodnax is a Partner at Zieve, Brodnax & Steele, LLP—an Irvine based law firm specializing in creditor rights matters. Mr. Brodnax concentrates his practice on foreclosure litigation and title curative issues, as well as a variety of other loan default related areas. He graduated magna cum laude and was named the Department's Outstanding Graduate of 2004. Nathan then went on to graduate cum laude from the Pepperdine School of Law, where he was a member of its Law Review program. After being admitted to practice law in California in 2007, he became dual licensed in 2011 after passing the Arizona Bar Exam. Nathan is a regular contributor to a variety of legal publications, including the United Trustee Association Quarterly and the Legal League Quarterly, and currently lives in Huntington beach with his wife and three daughters.
Jared Creason, BA in Philosophy Class of '03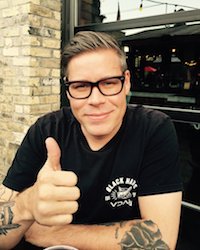 From CSULB, Jared went on to Virginia Commonwealth University to receive an MA degree in Communications, after which he began a career in advertising. Jared brings a unique passion for both art and copy, and has worked at some of the top advertising agencies. These opportunities allowed him to contribute to some top brands and their respective campaigns, and one spot even taking him as far as Antarctica. Jared recently opened his own advertising agency—Beach Day Creative—in Newport Beach.
William Senior, BA in Philosophy Class of '02
Senior Associate Attorney at Benjamin L. England & Associates. He specializes in food, drug, device, and cosmetics law. After leaving CSULB, William earned his J.D. from Loyola Law School.
Michael Zar, BA in Philosophy & Religious Studies Class of '02
Associate Attorney at Kushner Carlson. Before pursuing his law degree at University of San Diego, Michael was a Peccorini Scholarship Award winner and Honors student. Michael specializes in business and real estate law.
Barbara Hogan, MA in Philosophy Class of '02
My thesis advisor was Dr. Edward Quest, who was all you'd imagine a genuine philosopher to be. After graduation I was hired at Antelope Valley College to teach predicate logic and other sections of introductory courses. My students have been nurses, computer programmers, hopeful teachers, and business admin students, with little or no background in advanced mathematics, critical thinking or English composition. I will no doubt be retiring soon, and it delights me to remember how many students I have taught to solve problems from an exterior view and to critically inspect and challenge 'agreed-upon truths' which may or may not be the case … . Perhaps our true calling as philosophers!
Franica Tawn, BA in Philosophy & Political Science Class of '01
Earned her J.D. at U.C. Hastings Law School in 2007, and is a general practice attorney in Lancaster, CA.
Kathryn Gainey, BA in Philosophy & Economics Class of '00
After finishing a double-major at Cal State Long Beach, where she was named CLA's Outstanding Baccalaureate, Kathryn went on to earn her J.D. in 2003 from Harvard Law School, where she was Managing Editor of the Harvard Environmental Law Review. She clerked for a federal judge for the Northern District of Ohio, and then the U.S. Court of Appeals, 10th Circuit. Kathryn is now an associate at Steptoe & Johnson LLP. She was admitted to the State Bar of California in 2003, and to the District of Columbia Bar in 2004.
Ted M. Preston, MA in Philosophy Class of '00
Ted earned a Master's degree from Cal State Long Beach and a PhD from UC Riverside. He taught at both Cal Poly Pomona and UCR before being hired tenure-track at Rio Hondo College in 2005. Ted's area of specialization is Ancient Philosophy (especially Stoicism). Both personally and pedagogically, he subscribes to the ancient model of philosophy, according to which philosophy is a 'way of life' aiming at self-transformation, and he attempts to convey the practical, therapeutic value of philosophy in all his courses, as much as is possible. Ted writes, 'of all the campuses where I studied philosophy, I acquired the most breadth and depth of understanding at Long Beach'.
Jack Bowen, MA in Philosophy Class of '00
After graduating as a two-time All-American water polo player at Stanford University, Jack came to CSULB to study Philosophy. He graduated Summa cum Laude, and then went on to teach at De Anza Community College in Cupertino and to write several books. He now teaches philosophy at Menlo School in Atherton, and continues to coach water polo.
David Macaray, BA in Philosophy
After majoring in Philosophy, David volunteered to join the Peace Corps and went on to become an accomplished author, playwright, columnist for Huffington Post, and former labor union representative. See the interview in the Fullerton Observer.
Dr. Michael Ashooh, MA in Philosophy Class of '97
Michael earned an MA in Philosophy from Cal State Long Beach in 1997, and went on to earn his PhD in Philosophy from the University of Toronto in 2007, where he specialized in Philosophy of Science and History of Analytic Philosophy. Michael teaches courses in Ethics, Medical Ethics, and Kant at the University of Vermont.
Dr. Brian Treanor, MA in Philosophy '97

Brian is Professor of Philosophy and the Charles S. Casassa Chair at Loyola Marymount University. He earned his MA in philosophy at CSULB in 1997, with a thesis on the phenomenology of obligation under Prof. Dan Guerrière. After CSULB, he completed a PhD at Boston College. Environmental philosophy, ethics, and philosophy of religion have been consistent foci in his writing; his books include Interpreting Nature, Emplotting Virtue, Carnal Hermeneutics, and, most recently, Melancholic Joy: On Life Worth Living. Brian lives in Los Angeles with his wife Gitty and daughters.
Michael Sigman, MA in Philosophy Class of '94
After earning a Master's degree in Philosophy at Cal State Long Beach, Michael took up a teaching position at East Los Angeles Community College in 1995, eventually serving as Department Chairperson and an Academic Senator. Michael's area of specialization is Social and Political Philosophy, with emphases in feminist politics and social contract theory.
Michael Allen, MA in Philosophy Class of '92

Michael received his BA and MA degrees in Philosophy at CSULB, along with a certificate in Asian Studies. He was heavily involved in the SPA, serving as President and helping organize a symposium on applied ethics in SP88. He also presented at the 6th Congress for the International Society of Chinese Philosophy in Hilo Hawai'i in 1989, and later attended a Philosophy of Science conference in Beijing with his faculty mentor, Dr. Paul Tang. In SP92, Michael graduated with a thesis on Confucian and Aristotelian views on practical wisdom and a 4.00 GPA. He has since served as the West Coast Director for the SMA, as well as the Director and Head Coach of the Santa Cruz Pleasure Point Surf Club teaching children safety in the ocean, the love of surfing, and the healing elements that the ocean brings for life. Michael is also an author, film-maker, and technical writer for companies in Silicon Valley, and is happily married with three children.
J. Mark Appleberry, BA in Philosophy Class of '92
After majoring in Philosophy, Mark went on to receive his JD from Boston University in 1995, where he was an editor on the Law Review, and was admitted to the bar in Illinois and Kentucky. He went on to clerk on the US 6th Circuit Federal Court of Appeals and worked as an attorney at Frost Brown Todd. Mark is also a business consultant, having founded Thoroughbred Technologies and Docamoda LLCs.
Dr. Andrew Fiala, MA in Philosophy Class of of '92
After earning his Master's degree and winning the Whittington Scholarship along the way, Andrew attended the PhD program at Vanderbilt University and subsequently become a philosophy professor at the University of Wisconsin Green Bay. In FA05, he moved to Cal State Fresno, where he now serves as the Department Chairperson, and has published 7 books and dozens of scholarly articles on ethics, just war theory, and pacifism.
Dan Olivieri, BA in Philosophy Class of of '87

While at CSULB, Dan was very involved with the Humanities Student Council and SPA, and developed a passion for social philosophy. After graduation, he worked with Cesar Chavez, Dolores Huerta, and the United Farm Workers Union on the 'Wrath of Grapes' Boycott, which sought to end the use of dangerous pesticides. In 1991, Dan entered the Franciscan Religious Order, and then received an MDiv from the Franciscan School of Theology in 1998. Since 2001, he has been a Chaplain at Dignity Health Dominican Hospital in Santa Cruz. He serves on its Palliative Care Team and Bioethics Committee, as well as the Hospice of Santa Cruz County Ethics Committee. Dan is happily married with a young daughter named Sophia.
James Granitto, MA in Philosophy '86

James is a tenured Professor of Philosophy at Santiago Canyon College, having taught at various Southern California community colleges for the past three decades. His thesis developed a typology of mystical experiences and examined whether the types are a form of propositional knowledge. He also has research interests in epistemology and informal logic, and has published articles and presented papers on the nature of philosophy, religious skepticism, and the philosophical use of literature and film. His teaching philosophy stresses autonomy: 'I credit each student with the ability to determine what is true and what is right, through their own reasoning and experiences, without just depending upon outside authority'.