Lunar New Year Celebration
February 1 @ 11:00 am

-

1:00 pm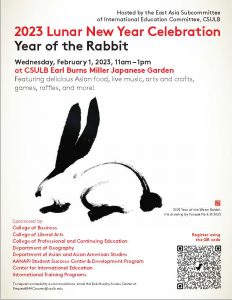 We cordially invite you to join us to welcome the Year of the Rabbit at Earl Burns Miller Japanese Garden on campus next Wednesday on February 1, 2023, 11 am-1 pm. The celebration features delicious Asian food, live music, a rabbit drawing workshop, games, raffles, and more arts and crafts! Please register using the QR code in the attached flyer. 
Lunar New Year, as one of the most important festivals celebrated across Asian countries as well as the Asian diaspora , celebrates the beginning of a new year based on the lunar calendar and can last up to two weeks. It was also recognized as a state holiday in California by a recent signed bill. At this moment, however, we were very sad about the horrific mass shooting that happened in Monterey Park on Lunar New Year's Eve, which was supposed to be a joyful time with family and friends. We are praying for the victims, their families and friends, and the communities who experienced the loss. As part of the Asian community, we feel the pain deep in our hearts.
While we mourn the loss, we welcome you to join the event as we come together to support each other, hoping that the rest of the year will be full of peace and prosperity, symbolized by the Year of Rabbit. 
Linna Li (Chair) and Min Gu (Vice-chair)
On behalf of East Asia Subcommittee of International Education Committee, CSULB