Linguistics Professor Will Honor Her Language At CSULB
November 9, 2020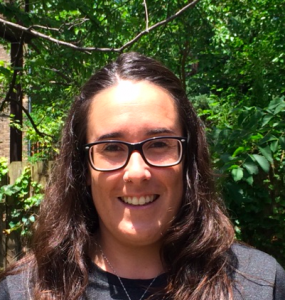 Dr. Itxaso Rodríguez-Ordóñez believes that studying language can provide us with a deeper understanding of how we live our lives, along with insight into how people from different walks of life are perceived by society. She will be sharing her knowledge and perspectives with students this fall as a new professor in the College of Liberal Arts' linguistics department.
"Understanding language is also a way to understanding people, because language and people are so intrinsically related," she says. "We sometimes use language to discriminate against others, or to help others, right? So, I think that understanding how we build the stereotypes, and how languages can create boundaries and connections with other people, can also help you understand why it is that we make those choices. It kind of gives us a window as to what society thinks."
Dr. Rodriguez has first-hand experience with these concepts. She grew up in the Basque Country, an autonomous community with provinces in both France and Spain that is not officially a country, but is referred to as such because the people who live there speak the Basque language, which translates the word "country" to "population."
Dr. Rodriguez says that the Basque language is one of the main drivers of her interest in linguistics — not just because she grew up speaking it, but because she was almost not allowed to learn it at all. When she was a child, Spanish dictator Francisco Franco forbade the use of any language other than Spanish. "You could be killed if you spoke the [Basque] language," Dr. Rodriguez says. "The language almost died in the  '70s."
After Franco died, she and her parents were finally able to learn the language, but they then encountered another, surprising strain of discrimination. She was discouraged from participating in or conducting any research relating to the Basque language in school because she wasn't considered a real speaker of the language — all because she and her parents didn't learn it natively.
"It was very hard for me to deal with because it was part of my identity," she says.
Rather than giving up, however, Rodriguez decided to use her challenges to fuel her ambition. Her professors started to take note of her drive to study people like herself — people who had to learn the Basque language from non-native speakers — and the social effects it had on them. "I decided that I should study people like me, meaning that that hardship turned into a very, very productive career," she says. 
Dr. Rodriguez received her bachelor's degree from the University of Deusto in Bilbao and her master's and doctorate in Spanish linguistics at the University of Illinois Urbana-Champaign. With her degrees in hand, she landed a job teaching at Southern Illinois University, where she worked for four years before coming to CSULB. 
She has had articles and research published in the Journal of Language Contact, which focuses on languages and their relationships to one another. Most recently, she has been working on an article that covers the social linguistics of Basque and how the language is spoken differently by different people just like herself. "I'm really happy and really proud of that paper," she says.
In the fall, Dr. Rodriguez will be teaching an Introduction to Language Acquisition course, which will discuss how children pick up languages in their adolescent years, and hopes to teach bilingual language acquisition in the future. She will also be teaching Laboratory Phonetics, which will focus on the sounds that the human body makes and how those sounds create identity markers in languages, like accents.
Rodriguez said she chose CSULB because its diverse student population is a calling to broaden her knowledge of other languages. "One of the first things that actually attracted me the most is that it's a Spanish-serving institution, and also a minority-serving institution," she says.
Dr. Nancy Hall, chair of the linguistics department, commented on Dr. Rodriguez's diverse knowledge of linguistics, noting that she "brings an impressively broad knowledge of different areas of linguistics. Her research on the linguistic landscapes of neighborhoods undergoing gentrification is of particular relevance to the Long Beach and Los Angeles area. Students who met her appreciated her enthusiasm, energy and readiness to mentor."
Profile story by Pete Escobar