ASLD 2020 Virtual Graduation Ceremony
Congratulations to the class of 2020! We are so proud of you!
Below you will find the video of the graduation, a video and link to the "Virtual Museum Tour", the link to the museum- to tour on your own, the graduation program, and some zoom photos of the event. 
If you would like to access the museum and view the student work close up go to: Artsteps
In order to navigate the museum use the buttons at the bottom of the museum screen
Graduation Program 
Ceremony Photos
Award winner photos
Exemplary GPA Award

Genevieve Kimble

                                                        

Exemplary GPA Award

Justin Wells 

Outstanding GPA Award

Jenna Paxson

Outstanding GPA Award

Michelle Salazar

Outstanding GPA Award

Lisa Simmons

Exceptional GPA Award

Melina Orendain

Exceptional GPA Award

Tiana Pugliese 

Exceptional GPA Award

Jacqueline Salinas Garcia

Exceptional GPA Award

Juwariah Syed 

Exceptional GPA Award

Kelly Wang

Exceptional GPA Award

Ashlee Wortman 

Diana LeJins Scholarship winner

Lexine Lopez
Group Photo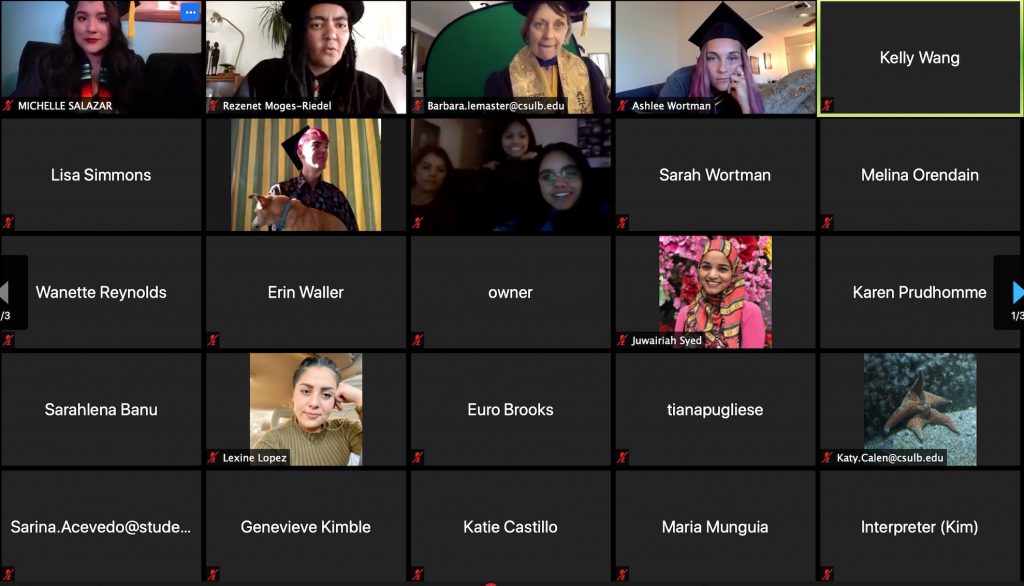 Group Photo with Chat
ASLD Faculty with Minors
ASLD Facutly with General BA Majors
ASLD Faculty with BA Interpreting Cohort 
ASLD Interpreting Faculty with BA Interpreting Cohort
Silly Cohort Photo