Jewish Studies
Welcome to Jewish Studies at CSULB!
In light of the horrific attacks carried out by Hamas in Israel on October 7, 2023 and afterwards, the Jewish faculty and staff at CSULB have issued the following statement (October 23, 2023):
Dear CSULB Community,
We are a group of CSULB faculty and staff who are deeply concerned about the ongoing events in Israel and across the Middle East and their implications for the safety of students, staff, and faculty on our campus.
As we all know, on October 7th, Hamas terrorists launched a long-planned attack on southern Israel in which they murdered over 1300 civilians, many of whom were asleep in their homes, and abducted approximately 200 hostages. The carnage was not limited to Jewish Israelis. Bedouin living in settlements with no protection or sirens were targeted and particularly vulnerable. Arabs, Druze, as well as citizens of multiple Latin American countries, Nepal, Thailand, the Philippines, China, the United States, France, and Germany were also murdered and kidnapped. There are likely others but, to date, these are the groups for which we have confirmation.
In the wake of this atrocity—the likes of which Jews have not experienced since the Holocaust, and reminiscent of the pogroms of the late 19th and early 20th centuries—Jews have been hearing how Hamas represents resistance to Jewish occupation of Palestinian land and an anti-colonial struggle akin to those in Latin America, Africa, and Asia, to name but a few. It is important that the campus community understand that we support anti-imperialism but what happened on October 7th was not national liberation but the targeted slaughter of civilians. Please know we are desperately afraid for the Palestinians of Gaza who are experiencing great civilian losses in Israeli military actions. This brings us immense grief and we are horrified by the loss of life. To us, Hamas does not represent Palestinian resistance nor a unified Palestinian voice. Indeed, Hamas is a terrorist organization—not a peace movement—that has made the civilians of their own cause cannon fodder. We are deeply worried about how Hamas' actions will prompt larger unrest in the Middle East and civilian casualties in other countries.
Diversity, Equity, and Inclusion (DEI) ideologies have historically been focused on the inclusion of all voices regardless of ethnicity, race, gender, sexual orientation, socioeconomic status, and religion. In addition, DEI is meant to safeguard and embrace marginalized groups. What we are seeing since October 7th, in both language and practice, is just the opposite. Jews are being marginalized and ostracized in a way that runs counter to all DEI ideologies and inclusive excellence practices that we, as a campus, hold dear.
Inflammatory anti-Israeli, anti-Zionist, or anti-Jewish speech, posters, demonstrations, and events fuel antisemitism, which is well-documented as being on the rise throughout the world. Even if the intentions are to challenge the conservative Netanyahu government or to lend aid to Palestinians trapped in Gaza, the effect is to inflame antisemitic sentiment, which puts our Jewish students, staff members, colleagues, and friends at risk for their lives. Conversely, inflammatory pro-Israel rhetoric does not help either as it fosters Islamophobia and threatens Arab and Muslim students, staff, and faculty. It all needs to stop.
The CSULB Jewish community, especially our students, are traumatized by the events of October 7th. Most of us have family in the Middle East, suffered devastating losses at the hands of Hamas, and are deeply fearful of what is to come. We ask for your humanity and empathy in remembering the people murdered, injured, or kidnapped, and their mourning families. We call on our campus community to temper inflammatory language that fans the flames of an antisemitic backlash, putting us in danger and also threatening our Arab and Muslim brethren. Fascism is alive and well in the United States and those who propagate it will not be making distinctions.
In Peace,
CSULB Jewish Faculty & Staff Association
It is with great sadness we note the passing of our long-time Jewish Studies Leadership Board member: Gerda Seifer, z"l.
Gerda addresses the teachers at our first Holocaust training workshop in 2010.
From the Director of the CSULB Jewish Studies Program:
Gerda was such a force of nature. Her story, which she recounted most recently in her book, The Girl in the Cellar, was one of pain, suffering, struggle, and survival.
For those unfamiliar with her, she was born in Przemysl, Poland. The Nazis came to her hometown when she was only twelve, but because they lived on the east side of the river, they left after two weeks. Instead, the Soviets occupied the town.
Since her parents ran a store, they feared arrest as class enemies and moved to Lwow, where her father worked in a textile factory. The Nazis reached there two weeks later and created a ghetto. Gerda survived the first Aktion when her father hid her with a woman who placed Gerda in a dark cellar for six weeks. When she returned, she found that her mother had been taken.
When the second Aktion came, her father hid her with a woman who needed a servant. For two years, she was effectively this woman's slave, but it kept her alive. After the war, she managed to get away from this woman and ultimately made it to England and then the US.
In Long Beach, she worked tirelessly for Holocaust education and was the long-time chair of the Yom Ha-Shoah Committee. Gerda herself spoke in schools for decades. She spoke in my classes at CSULB since I started teaching here in 2004. For my students, her talk was the most powerful moment in the semester.
She was a major figure in the CSULB Jewish Studies Program from the beginning. In 2010, she and her husband Harold approached us with the idea for an annual teacher training program on the Holocaust and provided the seed money for us to get it off the ground.
Since then, we've held twelve of them, training hundreds of teachers in area schools on how to teach the Holocaust. Gerda attended each annual workshop and spoke to the teachers every year. Through the teachers who've come to these workshops, we've reached tens of thousands of students, shaping the way they learn about the Holocaust.
Although we knew this day would come, that foreknowledge doesn't make it any easier. She was irreplaceable.
May her memory always be a blessing.  Our hearts go out to her husband Harold and her children and grandchildren.
Jeffrey Blutinger, Director.
Barbara Alpert, z"l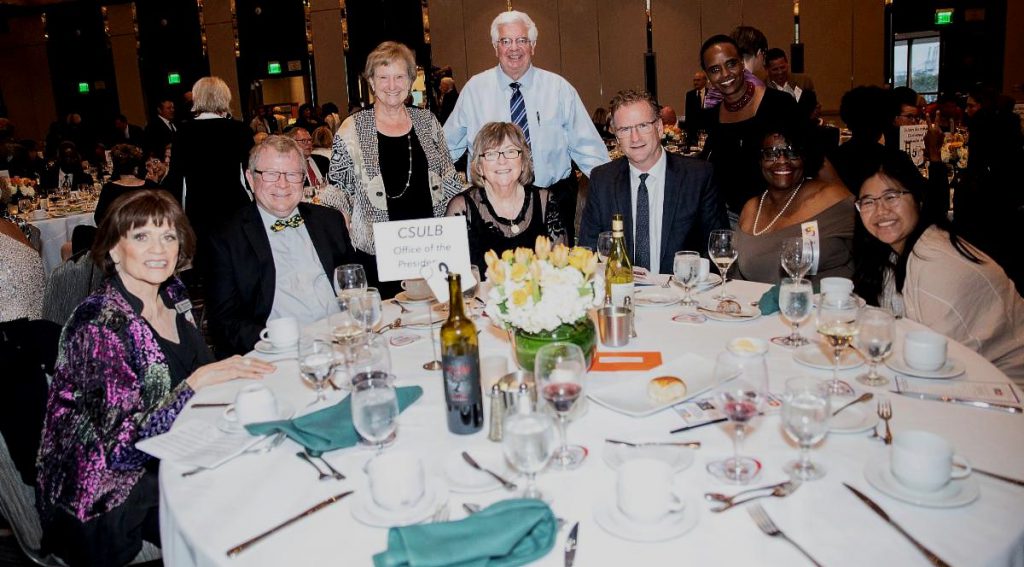 It is with great sorrow that we acknowledge the passing of Barbara Alpert.  Barbara and her late husband Ray were true pillars of our community, and we, both faculty as well as students at Cal State Long Beach, owe them a real debt of gratitude.  
First, at a moment of crisis, Barbara and Ray stepped up and through their generosity saved the Jewish Studies Program, which has allowed us not only to continue offering classes, degrees, and our regular lecture series, but also helped us to expand our programming, bringing artists, performers, and leading scholars to campus.
Second, Barbara and Ray were strong supporters of Beach Hillel, the organization that serves Jewish students not only at CSULB, but also at Long Beach City College, Golden West, and Cypress College.  Several years ago, they generously purchased a house near campus and then donated it to Beach Hillel, in order to serve as a place where Jewish students could meet, have a free kosher shabbat meal, celebrate holidays, or just socialize. 
Only three weeks ago, at the community's "BeJeweled Gala 2019," Barbara Alpert was honored for her decades-long commitment to Jewish philanthropy.  Long Beach Mayor Robert Garcia and Congressman Alan Lowenthal singled Barbara out for particular praise.  In her speech afterwards, Barbara described how she convinced her husband that the two of them should step up with a donation for naming what is now the Barbara and Ray Alpert Jewish Community Center, Long Beach.
Barbara was also an active member of Temple Israel, and supported organizations such as Jewish Family and Children's Services and the California Conference for Equality and Justice.  Most recently, she helped found "The Barbara Alpert Chorus," a singing group for senior citizens.  Her generosity and activism has touched the lives of countless people in the Long Beach area and her passing leaves a gaping hole in our hearts.
When speaking of someone who had died, Jews typically say zichra l'vrachah, may her memory be a blessing.  Our campus and community has truly been blessed by Barbara's life and her works.  Our condolences go out to all her her children, grandchildren, family, friends, and colleagues.  May her soul be bound up in the bonds of eternal life (1 Samuel 25:29).  
Jeff Blutinger
Barbara and Ray Alpert Endowed Chair in Jewish Studies
Director, Jewish Studies Program
California State University, Long Beach