Jewish Studies
Welcome to Jewish Studies at CSULB!
2023 Eva and Eugene Schlesinger Teacher Training Endowed Workshop 
To be held at CSULB, July 10-14, 2023
Click here to register:
https://docs.google.com/forms/d/1Q39tRfPpHwZCI5pMmn4GtXFt9yYBDWfJ0CyXAYSeQGM/edit
It is with great sadness we note the passing of our long-time Jewish Studies Leadership Board member: Gerda Seifer, z"l.
Gerda addresses the teachers at our first Holocaust training workshop in 2010.
From the Director of the CSULB Jewish Studies Program:
Gerda was such a force of nature. Her story, which she recounted most recently in her book, The Girl in the Cellar, was one of pain, suffering, struggle, and survival.
For those unfamiliar with her, she was born in Przemysl, Poland. The Nazis came to her hometown when she was only twelve, but because they lived on the east side of the river, they left after two weeks. Instead, the Soviets occupied the town.
Since her parents ran a store, they feared arrest as class enemies and moved to Lwow, where her father worked in a textile factory. The Nazis reached there two weeks later and created a ghetto. Gerda survived the first Aktion when her father hid her with a woman who placed Gerda in a dark cellar for six weeks. When she returned, she found that her mother had been taken.
When the second Aktion came, her father hid her with a woman who needed a servant. For two years, she was effectively this woman's slave, but it kept her alive. After the war, she managed to get away from this woman and ultimately made it to England and then the US.
In Long Beach, she worked tirelessly for Holocaust education and was the long-time chair of the Yom Ha-Shoah Committee. Gerda herself spoke in schools for decades. She spoke in my classes at CSULB since I started teaching here in 2004. For my students, her talk was the most powerful moment in the semester.
She was a major figure in the CSULB Jewish Studies Program from the beginning. In 2010, she and her husband Harold approached us with the idea for an annual teacher training program on the Holocaust and provided the seed money for us to get it off the ground.
Since then, we've held twelve of them, training hundreds of teachers in area schools on how to teach the Holocaust. Gerda attended each annual workshop and spoke to the teachers every year. Through the teachers who've come to these workshops, we've reached tens of thousands of students, shaping the way they learn about the Holocaust.
Although we knew this day would come, that foreknowledge doesn't make it any easier. She was irreplaceable.
May her memory always be a blessing.  Our hearts go out to her husband Harold and her children and grandchildren.
Jeffrey Blutinger, Director.
Barbara Alpert, z"l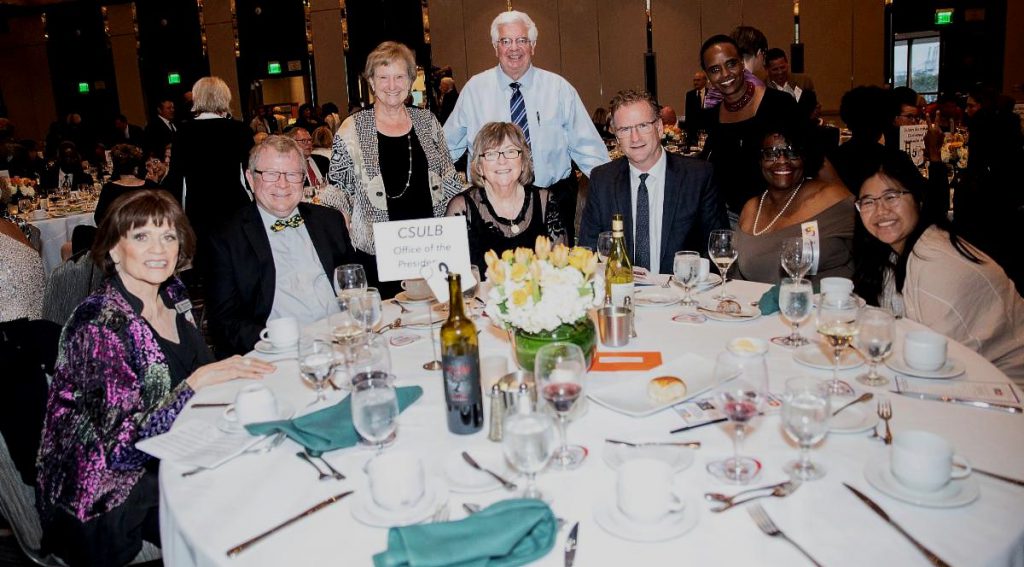 It is with great sorrow that we acknowledge the passing of Barbara Alpert.  Barbara and her late husband Ray were true pillars of our community, and we, both faculty as well as students at Cal State Long Beach, owe them a real debt of gratitude.  
First, at a moment of crisis, Barbara and Ray stepped up and through their generosity saved the Jewish Studies Program, which has allowed us not only to continue offering classes, degrees, and our regular lecture series, but also helped us to expand our programming, bringing artists, performers, and leading scholars to campus.
Second, Barbara and Ray were strong supporters of Beach Hillel, the organization that serves Jewish students not only at CSULB, but also at Long Beach City College, Golden West, and Cypress College.  Several years ago, they generously purchased a house near campus and then donated it to Beach Hillel, in order to serve as a place where Jewish students could meet, have a free kosher shabbat meal, celebrate holidays, or just socialize. 
Only three weeks ago, at the community's "BeJeweled Gala 2019," Barbara Alpert was honored for her decades-long commitment to Jewish philanthropy.  Long Beach Mayor Robert Garcia and Congressman Alan Lowenthal singled Barbara out for particular praise.  In her speech afterwards, Barbara described how she convinced her husband that the two of them should step up with a donation for naming what is now the Barbara and Ray Alpert Jewish Community Center, Long Beach.
Barbara was also an active member of Temple Israel, and supported organizations such as Jewish Family and Children's Services and the California Conference for Equality and Justice.  Most recently, she helped found "The Barbara Alpert Chorus," a singing group for senior citizens.  Her generosity and activism has touched the lives of countless people in the Long Beach area and her passing leaves a gaping hole in our hearts.
When speaking of someone who had died, Jews typically say zichra l'vrachah, may her memory be a blessing.  Our campus and community has truly been blessed by Barbara's life and her works.  Our condolences go out to all her her children, grandchildren, family, friends, and colleagues.  May her soul be bound up in the bonds of eternal life (1 Samuel 25:29).  
Jeff Blutinger
Barbara and Ray Alpert Endowed Chair in Jewish Studies
Director, Jewish Studies Program
California State University, Long Beach