Misty Jaffe Early Leaders Program
Mission and Goals
The Misty Jaffe Early Leaders Program (ELP) is a collaborative effort of the Dean's Office, CLA Faculty Council and the Faculty Center to support leadership development in our college and, as such, represents an important investment in the future of CLA. The program is named in honor of Dr. Alexandra "Misty' Jaffe  (1960-2018), Professor and Chair of Linguistics and CLA Faculty Council Chair, who was well-known for her dedicated service and leadership, especially in the area of faculty governance.
The twofold goal of the Early Leaders Program is to increase capacity of CLA leadership going forward and to foster CLA diverse leadership. ELP is envisioned as a space for: empowering and creating visibility for early leaders; thinking and learning about leadership; collectively practicing leadership skills; and gaining awareness of existing and possible leadership pathways.
Inspired by CSULB's President's and Provost's Leadership Fellows Program which serves mid to later-career faculty, the ELP is designed for those seeking or serving in new leadership roles. ELP is open to all tenure-line and lecturer faculty. 
Expectations
The ELP is a two-year, cohort program. Participants are expected to commit to all sessions (monthly through the academic year) and to undertake a series of readings, activities and evaluation exercises as a part of the program. Monthly Guest Leaders offer a range of ongoing lived leadership experiences and opportunities for dialogue and networking.
2019-2021 Program Cohort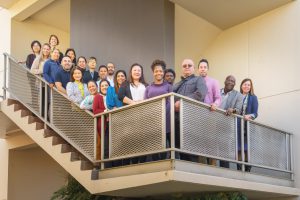 Participants:
Araceli Gonzalez, Doris Palmorez, Ebony Utley, Gino Galvez, Hyowon Ban, Jamie Wiles, Jeannette Acevedo Rivera, Justin Gomer, Kathryn Chew, Keith Claybrook, Linna Li, Margaret Kuo, Michael Palomarez, Rene Trevino, Sabrina Alimahomed-Wilson, Sandra Arevalo, Sophia Pandya [absent], Ulices Pina, Yousef Baker [absent], Yuping Mao
Facilitators:
Deborah Thien, Barbara LeMaster, Malcolm Finney
Applications
We are currently in the final semester of the inaugural cohort. Applications for the 2021-2023 cohort will be made available in Spring 2021. Seating is limited to 20 participants on a first-come, first-serve basis; underrepresented faculty and junior faculty are strongly encouraged to participate.