NASA Learning Experience
The NASA Learning Experience (NLE) trip was part of California State University, Long Beach's Women-in-Engineering Outreach Program and the Center for Human Factors in Advanced Aeronautics Technologies' growing efforts to encourage young girls to consider future careers in engineering. The trip took place in July, 2010, and was an opportunity for underrepresented students to visit the Kennedy Space Center (located in Florida) for an education forum, hands-on activities, and a tour of the center. Activities included NASA content-based educational activities, exposure to the excitement of the space program, and minority role models. Tours included tours of the Saturn V rocket display, International Space Station centers and the Astronauts Hall of Fame.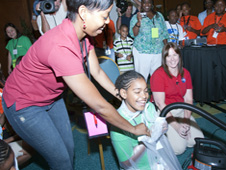 The NLE trip was featured in the CSULB Press, the Long Beach Gazette, the Long Beach Press Telegram, and on NASA's website.