CSULB Human Factors and Ergonomics Society Student Chapter
Here at CSULB, we are proud to have an active and supportive HFES Student Chapter that contributes greatly to academic and professional development.  The HFES Student Chapter at California State University, Long Beach is currently comprised of approximately 20 members, many of whom are graduate students in the Master of Science in Psychology, Option in Human Factors program. The student chapter of the Human Factors and Ergonomics Society at California State University, Long Beach is dedicated to promoting the understanding and use of human factors both academically and professionally. The student chapter organizes and participates in various activities during the year, always with this goal in mind. As of September 2018, the chapter has been awarded The Gold Chapter Award by the National Human Factors and Ergonomics Society a total of 12 times.
Join Our Chapter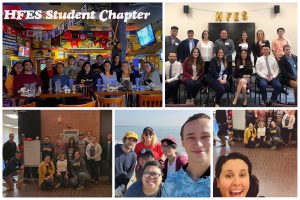 While students are free to attend any of our meetings without any requirements, it is encouraged that students officially join HFES to receive all the benefits our chapter and the organization as a whole can provide. Yearly fees for students are only $10 and $35 for non-students. Information about joining can be found at the National HFES site or by contacting our chapter's email at lbhfes@gmail.com.
Members of HFES gain access to a host of benefits ranging from HFES Journal access, special conference opportunities, unique colloquiums from HFES professionals, and social events.
Our chapter coordinates research projects for both events held by our chapter individually and the national chapter.
See our HFES CSULB Newsletter for more information on upcoming events!
Annual CSULB HFES Conference
Every spring semester, our chapter hosts an annual CSULB HFES Conference. We will be having our 18th Annual CSULB HFES Student Research Conference on Saturday, March 11, 2023 from 9 AM to 4 PM at the Psychology building on campus. This year's conference will be a celebration of Dr. Thomas Strybel's research contributions to Auditory Perception and Aviation Human Factors. Visit our CSULB HFES Student Research Conference for more information.
Current (Fall 2022 – Spring 2023)
President 

Shraddha Swaroop

Vice President 

Christian Schmitz

Treasurer

Caleb Calomarde

Secretary

Dante Kruise

Social Chair

Ray McGuire

Outreach Coordinator

Vannessa Nguyen

Historian

Maegan Schmitz

Webmaster

Ha Nguyen 
Faculty Advisor: Dr. David Illingworth
Recent Meetings
We hosted our Research Poster Workshop on Tuesday, Feb 7, at 5:30 PM in PSY 232 and on Zoom! Our faculty advisor, Dr. David Illingworth, shared tips on how to create a research poster and how to present your poster at research conferences. If you'd like additional resources on poster presentations, please contact us via email or social media.
We recently had two guest speakers on Friday, December 2 and Saturday, December 3: David Andrews from Alcon Laboratories and Jessica Mar from CSULB's MSHF program:
David Andrews gave us a virtual talk about his experiences in the industry side of Human Factors. He has done a broad range of work in safety critical industries, including military, nuclear, aerospace, and land vehicles, and he is currently working for Alcon in the medical human factors industry.
Zoom recording of David's talk 
Passcode: k%?c@Z&6
——-
Jessica Mar is a second year MSHF student at CSULB. She recently completed a research internship at NASA Ames and is currently a research assistant at CUDA. Her talk is titled "Approaching Accessibility as Able-Bodied Advocates." Jessica has a personal interest in creating accessible designs and systems and has prepared a talk based on discussions and resources with experts.
Zoom recording of Jessica's talk
Passcode: Mn#=Z=5z
Upcoming Meetings
Contact Information
Join our Discord server to stay in the know and chat with our undergraduate and graduate members.
Connect with our LinkedIn to keep updated on our members' professional journeys
Follow us on Instagram to see us have fun at our events and meetings.
See what we're tweeting over at our Twitter.
Send us an email at lbhfes@gmail.com for any questions about our chapter or to be added to our email list for important announcements and updates.