CSULB Human Factors and Ergonomics Society Student Chapter
Here at CSULB, we are proud to have an active and supportive HFES Student Chapter that contributes greatly to academic and professional development.  The HFES Student Chapter at California State University, Long Beach is currently comprised of approximately 20 members, many of whom are graduate students in the Master of Science in Psychology, Option in Human Factors program. The student chapter of the Human Factors and Ergonomics Society at California State University, Long Beach is dedicated to promoting the understanding and use of human factors both academically and professionally. The student chapter organizes and participates in various activities during the year, always with this goal in mind. As of September 2018, the chapter has been awarded The Gold Chapter Award by the National Human Factors and Ergonomics Society a total of 12 times.
Join Our Chapter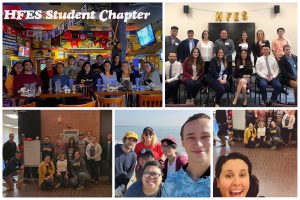 While students are free to attend any of our meetings without any requirements, it is encouraged that students officially join HFES to receive all the benefits our chapter and the organization as a whole can provide. Yearly fees for students are only $10 and $35 for non-students. Information about joining can be found at the National HFES site or by contacting our chapter's email at lbhfes@gmail.com.
Members of HFES gain access to a host of benefits ranging from HFES Journal access, special conference opportunities, unique colloquiums from HFES professionals, and social events.
Our chapter coordinates research projects for both events held by our chapter individually and the national chapter.
See our HFES CSULB Newsletter for more information on upcoming events!
Annual CSULB HFES Conference
Every spring semester, our chapter hosts our annual CSULB HFES Conference.  The 17th Annual HFES Student Conference was held March 5th, 2022 on-campus in the USU Ballrooms. The conference features keynote speakers, alumni panels, student research and it serves as an amazing networking opportunity. We invite students, faculty, alumni, and anyone with an interest in human factors to join us.
Student Chapter Cabinet
Current (Fall 2022 – Spring 2023)
President 

Shraddha Swaroop

Vice President 

Christian Schmitz

Treasurer

Stacey Ahuja

Secretary

Dante Kruise

Social Chair

Ray McGuire

Outreach Coordinator

Vannessa Nguyen

Historian

Maegan Schmitz

Webmaster

Ha Nguyen 
Faculty Advisor: Dr. David Illingworth
More about the Fall 2022 Student Chapter Cabinet   
Recent Meetings
Paul Lumsdaine is a Product Designer at NASA's JPL and his talk was on the intersection of human behavior, technology and business outcomes and includes an introduction, presentation and an interesting question-and-answer period at the end of the talk. 
Upcoming Meetings
Stay connected to our social media to learn when our next meeting and events will take place!
Past Meetings
Thank you for everyone who attended our HFES Trivia Night on Friday, October 28th!
Contact Information
Join our Discord server to stay in the know and chat with our undergraduate and graduate members.
Connect with our LinkedIn to keep updated on our members' professional journeys
Follow us on Instagram to see us have fun at our events and meetings.
See what we're tweeting over at our Twitter.
Send us an email at lbhfes@gmail.com for any questions about our chapter or to be added to our email list for important announcements and updates.