Chicano and Latino Studies Department Introduces New Professor
August 31, 2020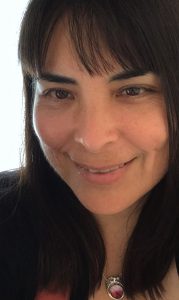 For the past 13 years, Dr. Loretta Ramirez has drawn inspiration from the students she taught at CSULB. She even credits them for motivating her to return to school for one of her master's degrees.
"My students were really excited to know I taught English on my workdays, and then on my weekends I would teach art," she says. "They were encouraging me to go back and get a degree." 
This fall, she joins the tenure-track faculty in the Chicanx/Latinx studies department. She brings with her a deep and varied educational background: Dr. Ramirez holds a bachelor's degree in anthropology from Stanford University, a master's in creative writing from Loyola Marymount University, a master's in art history from CSULB, a master's in English rhetoric from UC Irvine, and a Ph.D. in English rhetoric with a specialization in Chicana rhetoric. 
"It's a lifelong process," she says of her ongoing passion for learning.
In her time at CSULB, Dr. Ramirez has worked to transform her classes into more than just basic lessons about composition. She has integrated ethnicity and writing, which has created a learning environment she believes is more engaging. 
"When you add the cultural component, it livens up an otherwise kind of skill-based class," she says. "I think that subtle shift in what the definition of a class is opens up students to be willing to share their voice, without so much fear that they're going to be corrected."
Currently, she is working on turning her dissertation into a book. It discusses Chicana body identity and the plight to find "strategies and survival from violence," she explained. She hopes to have it completed within the next couple of years.
A part of her dissertation research looks at the way Chicana women transform wounds into learning experiences and use them as a form of empowerment. 
"Through the decades, women have found ways to use wounds to confront those who have wounded them," Dr. Ramirez says. "There's such a pattern of woundedness in the personal and social lives [of women] on the fringes. Being marginalized through racism, sexism, a lot of Chicanas have to find ways to overcome woundedness in identity and physical body and emotion."
In her new position, Dr. Ramirez is excited about being able to mentor students throughout their undergraduate career. "As a full-time instructor, I'm hoping to help them enter the system, guide them, mentor them, and also see them off to some new future."
Profile story by Pete Escobar