Nick Roman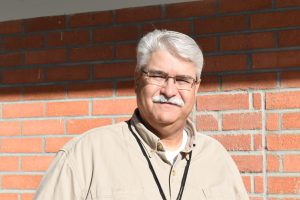 Faculty profile: Nick Roman
Nick Roman, the current host of All Things Considered at KPCC, is also one of the most sought-after teachers in the Journalism & Public Relations department at CSULB. He teaches broadcast news reporting and writing and the department's new podcasting course, and with his 30-plus years of experience, he offers students unique insight that prepares them for a career in broadcast journalism.
How did you get started in journalism? What drew you to the profession?
Roman: I was picked to be the editor of my high school newspaper at the end of my sophomore year at La Salle High School in Pasadena. I guess my English teacher saw something about my writing that impressed him. I always liked knowing what happened, and I liked explaining what happened. When I got to UC Irvine for college, I wanted to join the student radio station KUCI. There was a girl in my journalism class when I was a freshman who I knew was the KUCI news director. Every day, I'd tell her about something I heard about in the news until she finally said, "Why don't you stop telling me, and join KUCI and tell everybody?" She said if I did the news, I could be on the air the next day. So I did, and I was. I liked interviewing people, writing stories, and later mixing in sound to bring the stories alive. Turned out, I was pretty good at it.
What kinds of jobs have you had in journalism? Which places are you most proud of working at, and why?
Roman: I was hired at my local public radio station, KSBR in Mission Viejo, to be a part-time reporter in 1980, and later a full-time reporter in 1981. That's where I got my professional start. I also began freelancing for various public radio shows back then, too. When KSBR laid off everybody in 1984, I moved to KLON (now KKJZ) in Long Beach. Back then, the studios were on the CSULB campus. We had five reporters in those days, and we were pretty good. We all won Golden Mike Awards for our work. In 1988, KLON was home to a statewide news program called CALNET. I anchored the news for KLON but also did stories for CALNET. I am very proud of our work in those days. We had a daily show that aired on about a dozen public radio stations across California. The people I worked with then are still my friends today.
I also started doing freelance sports stories for NPR in 1988, and I am very proud of that work. I kept doing that until 2004 when I moved to KPCC. I have no time for freelance reporting anymore.
I started teaching in the department in 1992. I was asked to take over the broadcast journalism class. Back then, I let the students use the KLON/KKJZ studios, and when the semester was over, I'd ask the best students to stay on as reporters. We had a lot of talent back in those days! I left KKJZ, and I couldn't use the studios anymore, but times have changed and the students are more able to produce their own stories with their own equipment.
Why is it important to you to be a teacher?
Roman: I like the students. They're enthusiastic and funny, and that's good to be around. Teaching also helps me pay attention to why I do what I do on air.
What is your favorite part of being a teacher, specifically at Cal State Long Beach?
Roman: I like it when you see a student who has talent do something creative and clever and special. Every semester, somebody takes a big step forward.
What is the most exciting or rewarding thing about working with the Long Beach community and its students?
Roman: Our kids are a reflection of Southern California, mostly middle-class or lower-middle-class. They usually have jobs outside of class, and sometimes it takes them longer to get through college because they have to work. But they're tough, smart and hard-working. They're positive and optimistic. That's good.
What is the most important aspect of storytelling that is often overlooked or underrated?
Roman: I like to hear the voices of real people. You feel connected to the story. You think, "Hey! That guy's like me!" Those voices help you understand a story better, bring emotion and color to stories. When you leave out those voices, your stories aren't as powerful or memorable. But I also like it when reporters write clearly and cleverly. Our job is to make the world make sense in a handful of words. When you do that well, you've done a good thing for the listeners.
Why is journalism important to you?
Roman: Because when you know more, the world is a better place. It's always worked that way.
Would you recommend this school to other aspiring journalism students?
Roman: I would, but I would also tell them to be clear-headed about journalism. If you want to be rich when you're young, do something else. But if you like knowing the story behind the story, and you like explaining it to people, and you believe that's a good thing, then this is a great line of work.