CSULB alumni Asjia Garner
It was announced today that Asjia Garner, class of 2019, has been named Communications Coordinator for the First Lady, Dr. Jill Biden. She graduated with a double major in Journalism and International Studies and a minor French.
Huge congratulations to Asjia Garner!
CSULB Alum in Political Science and Sociology featured in Los Angeles Times
By ALEJANDRA REYES-VELARDE| FEB. 11, 2020 | 5 AM
Elizabeth Alcantar was at work when she began receiving a swarm of Twitter and Google alerts about a jet dumping fuel on her city.
She immediately texted her boss and said she had to go. Her day job was as a coordinator for the Coalition for Humane Immigrant Rights of Los Angeles. But a week earlier, the 26-year-old had been appointed mayor of the small city of Cudahy.
Alcantar rushed to City Hall, navigating around fire engines and police cars. Then she began trying to figure out just what had happened to her town — a snakebit place that has struggled in the past with political corruption and environmental pollution. Several nearby cities — Whittier, Pico Rivera, Downey and South Gate — were doused with fuel by a Delta airplane overhead.
But it was in Cudahy where almost two dozen students at Park Avenue Elementary School got splashed by the fuel. Soon, TV trucks and reporters descended on the city. Anger rose from the confusion.
Article continued on Los Angeles Times website.
CLA's Distinguished Alumni For 2017
COLLEGE OF LIBERAL ARTS
Dennis J. Keough
Judge, Superior Court, State of California
1974, Juris Doctorate, University of Mississippi; 1971, Bachelor of Arts, Political Science, CSULB
Now in his 35th year as a jurist, the Honorable Dennis J. Keough has the distinction of having served as a judge in the state courts of both Nebraska and California. He was elected by his colleagues in Orange County to five terms on the Superior Court's Executive Committee, the highest governing body for the nation's fifth-largest court system. He is one of California's most experienced Superior Court judges adjudicating child dependency cases. Early in his career, Keough interned as a public defender in Mississippi and practiced law in Lincoln, Neb.; he was appointed to the Nebraska judiciary in 1977. In 1980, he returned to California to serve as an assistant district attorney. He rose through the ranks of the Superior Court of California until he was elevated to judge in 2009. Born in Pittsburgh to Irish parents, Keough is a founding member of the Celtic Bar Association and has a long record of service to his community and alma mater. Recently, he worked with Professor Teresa Wright to develop an internship program for political science students at CSULB. Keough and his wife, Sherie, own a citrus ranch near Fallbrook; his other interests include literature, geophysics and cosmology.
http://web.csulb.edu/misc/inside/2017/05/22/csulbs-distinguished-alumni-for-2017/?utm_source=eblast&utm_medium=email&utm_campaign=InsideCSULB&utm_content=storylink
CLA Alumna wins 2015 Peabody Award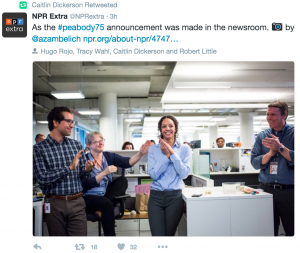 International Studies Alumna, Caitlin Dickerson (2011) has won the 2015 Peabody Award for NPR's Investigation of Secret Mustard Gas Testing.
To read NPR's Press Release, please click here: http://www.npr.org/about-npr/474765803/peabody-award-2016-winner
CLA Distinguished Alumni 2016
Brian Gimmillaro
Women's Volleyball Head Coach, CSULB
1971, 1974, Teaching Credentials, CSULB
1970, Bachelor of Arts, Economics, CSULB
Regarded as one of the top volleyball minds in the country, women's volleyball head coach Brian Gimmillaro is the most successful coach in Long Beach State history. His business endeavors include Brian Gimmillaro Volleyball Enterprises, the California Juniors Volleyball Club — the oldest and most successful club of its kind — and BGVB camps and clinics. He also developed a best-selling DVD series on instructional volleyball skills and co-authored the book, Volleyball: Drills for Success. At Long Beach State, he built an elite women's volleyball program, "virtually from scratch," leading the 49ers to 3 NCAA titles, 8 Final Fours, 27 NCAA tournament appearances, and 13 Big West titles over 31 seasons as head coach. Six of his players were named National Players of the Year, and Gimmillaro himself was the first college coach to be named Coach of the Year by the U.S. Olympic Committee. Prior to returning to his alma mater, Gimmillaro made his mark at Gahr High School, guiding his program to a national first-place ranking in 1984. Gimmillaro was elected to the American Volleyball Coaches Association Hall of Fame and named a Big West Coach of the Year. He is a three-time National Coach of the Year, a four-time Century Club Women's Coach of the Year, and the recipient of the USA Volleyball All-Time Great Coach Award. Additionally, he is a prolific public speaker who has made hundreds of speeches to businesses, clinics, conventions, and conferences throughout the country.
Kevin M. Nagle
Chairman and CEO, The Nagle Company Holdings
1974, Associate of Arts, General Education, Long Beach City College
1976, Bachelor of Arts, Speech Communication, CSULB
A community-minded CEO with a track record for business innovation and expansion, Kevin Nagle is perhaps best known as the largest local owner of the Sacramento Kings basketball team and for working successfully to keep the NBA team in Sacramento. But Nagle is also widely admired as the co-founder and former CEO of Envision Pharmaceutical Holdings, Inc., the pioneering prescription benefits management (PBM) company he lead for nearly 15 years and before it was sold to RiteAid in 2015 for $2.3 billion. Under Nagle's leadership, Envision created a new business model which won numerous industry awards and today, it is one of the world's largest and most influential PBMs. Described as "a Renaissance man among investors," Nagle is now president and sole owner of The Nagle Company, Inc, a holding company which includes shopping malls, real estate assets and sports franchises. His investments include the Sacramento Republic FC, a minor-league soccer club, Trojan Horse Productions, a film-production company and Moneta Venture Capital and Leavitt Partners Private Equity with board seats on each. Named the 2015 "Executive of the Year" by the Sacramento Business Journal, Nagle also supports a variety of philanthropic causes and sits on the boards of St. Hope Public Schools, Saint Mary's College of California, and the UC Davis School of Medicine. He is even prouder of daughters Lindsay, a teacher, and Haley, a neonatal intensive care unit nurse.
CLA Distinguished Alumni 2015
Michael Houlihan, B.A. in Political Science, 1968
A visionary entrepreneur and brand builder, Houlihan and his partner, Bonnie Harvey, used performance-based compensation, "Worthy Cause Marketing," and an expanded view of customer service to beat the business odds, transforming Barefoot Wine from an obscure novelty product into an iconic brand that is now the world's No. 1 wine brand. Now a sought-after speaker, author, consultant and workshop leader, Houlihan shares his entrepreneurial journey and philosophies with audiences and clients throughout the world. Houlihan has earned the wine industry's top awards including "Trend Setter," "Fast Track Growth Brand" and "Hot Brand."
Bill Shumard, B.A. in Journalism, 1972
Shumard has enjoyed a long and successful career in sports management at the professional, collegiate and amateur levels. Since 2005, he has served as president and CEO of Special Olympics Southern California (SOSC), now recognized as one of the movement's premier Special Olympics programs. Under Shumard's leadership, Southern California was awarded the bid for the 2015 Special Olympics World Summer Games—the largest sporting and humanitarian event in the world—and the number of athletes served by SOSC dramatically increased. Prior to joining SOSC, Shumard was the second-longest tenured athletic director in CSULB history, raising more than $7 million for capital projects including the Walter Pyramid, and overseeing a program that won numerous championships and experienced extraordinary gains in student-athlete graduation rates. Shumard remains actively involved with CSULB, where he is the current chair of the Advisory Council for the Master of Sports Management program and a past chair of the Governing Council for the Ukleja Center for Ethical Leadership. College of Liberal Arts.
Alumni Association Grants Awarded
Source–Shayne Schroeder Published: March 16, 2015
The campus community is invited to congratulate the CSULB Alumni Association's 2015 grant recipients at a reception on Tuesday, April 21, at 4 p.m., at The Pointe.
The association is proud to award a total of $49,230 to nine programs as part of the Alumni Grants Program. Nearly $825,900 has been distributed through this program in its 24-year history. The Schools First Federal Credit Union is also a sponsor of this program.
To attend the reception, please contact Meghan Adamovic by e-mail or call 562/985-2539 so proper accommodations can be planned.
This year's recipients are:
1. Carpenter Performing Arts Center for microphones and sound equipment for student performances, Michele Roberge, $7,435.
2. Center for First Amendment Studies for a news production set for First Amendment News, Kevin Johnson, $7,100.
3. Civil Engineering and Construction Engineering Management Department to build a full-scale tank to demonstrate liquefaction, Luis G. Arboleda, $6,300.
4. Disabled Students Services for Assessment instruments and testing materials, Tina Sutera, $7,476.
5. Marketing Department for equipment and software to upgrade experimental lab, Ingrid Martin, $4,244.
6. School of Nursing for DxR Clinician web-based patient simulation software, Natalie Cheffer, $5,903.
7. Physics and Astronomy Department for solar telescopes for astronomy classes, Chuhee Kwon, $6,648.
8. Theatre Arts Department for a vocal health and awareness kit to teach healthy vocal production, Andrea Caban, $2,435.
9. University Library for American Sign Language materials, Gabriel Gardner, $1,689.
CLA Distinguished Alumni 2014
Nelson Farris (Speech Communication '69) is Nike's longest tenured employee and estimates that he has held 20 different jobs during his 41+-year career and traveled to more than 50 countries on six continents. His journey with the "swoosh" began in 1972 when he opened a retail store in Long Beach that carried a line of running shoes from Blue Ribbon Sports, Nike's original business name. In 1973, he accepted a position as the company's Southern California promotions, direct sales and retail manager. Career highlights include launching numerous international offices and promotional/sports marketing programs, overseeing the 1984 Los Angeles Summer Olympic Games' marketing efforts and managing the EKIN training program. Farris is active in the community, serving on the board of directors for Marathon Education Partners and Marylhurst University (emeritus). He is also Sigma Pi national fraternity's educational foundation director and a Special Olympics of Oregon volunteer. While attending CSULB, he joined the Sigma Pi fraternity and was a member of the Blue Key Honor Society. As an alumnus, he is a founding member of the 49er Athletic Foundation and donates to the 49er Athletic Fund. He and his wife, CSULB alumna Sharron Dach (deceased), have three children and six grandchildren.
Clyde Kendzierski (Political Science '69 and Economics '72) is considered a leading expert in the field of fixed income and equity investment. Before he joined Financial Solutions Group in 2007 and Kendzierski Associates in 2009, he was a manager of the Capital Markets Fixed Income Group at Bank of the West until 2002. Previously, he served as a senior bond trader for Union Bank and chief Eurodollar trader for First Interstate Bank. He is also a licensed contractor. When Orange County went bankrupt in 1994, Kendzierski was appointed to the Treasury Oversight Committee and continues to serve as an advisor. His financial expertise has resulted in interviews for media including radio station KFWB, L.A. news station KNX and the Wall Street Journal. While attending CSULB, he participated in leadership roles with several clubs, including the sailing and ski clubs and the Acacia Fraternity. As an alumnus, Kendzierski is both a donor and supporter of the Economics Department, regularly attending the Economic Forecast and sitting on its advisory board. Both of his siblings, Marjorie Hudson and Edmund Kendzierski, attended CSULB, and his youngest daughter, Kerrie, pursued a year of post baccalaureate studies. He and his wife, Susan, have three children and three grandsons.
CLA Distinguished Alumni 2013
Timothy G. Plax (Speech Communications '70, Rhetorial Studies '71) is a Distinguished Professor of Communication Studies and Administrative Director of the Hauth Center for Communication Skills at California State University, Long Beach. He has served on the faculty at the University of New Mexico and West Virginia University. His research and teaching focus on social influence and interpersonal and organizational communication, but is he is best known for his research in communication in instruction. His professional experiences include six years as a member of the Executive Staff at The Rockwell International Corporation and 30 years as a consultant in corporate, governmental, and instructional arenas. He has published over 150 manuscript including several textbooks, chapters, research articles, and commissioned research reports. He is listed among the 20 most published scholars in his discipline. He is a recipient of a number awards including the CSULB Distinguished Faculty Research and Creative Activity Award, the CSULB Associated Students Presidential Award, and both the "Triad of Excellence" Engineering Award and the Distinguished Research Award from the Space Shuttle Orbiter Division of The Rockwell International Corporation.
Dr. Dianne Van Hook (Sociology '72) is both the youngest and the longest serving district CEO in the California Community College system. Prior to her present position as the Chancellor at the Santa Clarita Community College District, she served at several community colleges, rising to instruction/student service dean at Feather River College then College District dean at the Lake Tahoe Community College District. During her tenure at Santa Ana College, she launched the New Horizons program for re-entry students, which was implemented at 60 California colleges. She also taught graduate psychology at the University of LaVerne. She began her career as a teacher in the ABC Unified School District. Her civic advocacy includes founding the Santa Clarita Valley (SCV) Child Care Task Force, SCV Arts Council and the Network of California Community College Foundations. She has served as president of California's three major organizations for community colleges. Van Hook has received every statewide award bestowed specifically on community college CEOs, including the Community College League of California's Five Star Leadership Award, and was named the 2009 L.A. County Woman of the Year. In 2013, she will participate in the CSU Working for California project. Her past CSULB volunteer work includes sitting on the Alumni Association board of directors and emceeing Concerts in the Grove. Her husband, Roger, is an alumnus (B.A., 1966; M.A., 1968; speech communication). Van Hook's hobbies include yoga and photography.
CLA Distinguished Alumni 2012
Richard "Rick" Bryson (Economics '66) grew up in Long Beach and attended Long Beach Polytechnic High School where he was a football and baseball star and a member of the football's hall of fame.  After graduation Rick received an athletic scholarship to the University of Santa Clara.  During his freshman year there, he transferred to California State University, Long Beach where he was offered an athletic scholarship.  Rick excelled in academics, was a part of the Dean's list and majored in Economics as well as a member of Sigma Alpha Epsilon Fraternity.  Rick is also a member of the CSULB Athletic Hall of fame.
After graduation Rick went into the insurance business and eventually opened his own agency, which is one of the largest insurance brokerage firms in the nation.  Throughout his career he has received several awards, including a business scholarship to the University of Michigan as well as the University of Notre Dame.  As a CLU and CHFC Rick gains the professional designation from the University of Bryn Mawr in Pennsylvania.  Rick currently lives in Naples of Long Beach with his wife Bree and is the proud father of four children, who have given him seven grandchildren with one more on the way.
In 2011, George Gascón (History '77) was elected as District Attorney of the City and County of San Francisco after winning more than 62% of the vote. Gascón is the first Latino to hold the office of District Attorney in San Francisco.
Born in Cuba, Gascón and his family immigrated to the United States and settled in South Central Los Angeles when he was 13 years old. As a monolingual Spanish speaker in a new country, Gascón struggled in school and eventually dropped out. He went on to earn not only his high school diploma but a Bachelor of Arts in History from CSULB, and a Juris Doctor Degree from Western State University, College of Law.
Gascón has over three decades of experience in law enforcement. He earned a positive reputation for reforming one of the nation's largest police departments by revamping officer training, teaching proper police procedure, and improving the Compstat program. Gascón is a graduate of the FBI's National Executive Institute, and a member of the Harvard University/Kennedy School of Government's Executive Session on Policing and Public Safety.